Ex-PTI leaders see Qureshi in Adiala Jail, persuade to 'quit PTI'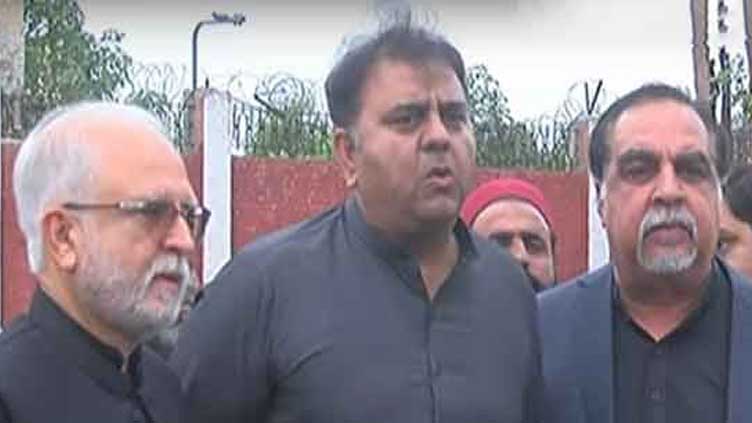 Pakistan
Fawad Ch, Imran Ismail and Aamir Kiani visit Adiala Jail and discuss political situation
RAWALPINDI (Dunya News) – A group of former PTI leaders paid vice chairman Shah Mahmood Qureshi a visit in Adiala Jail on Wednesday to discuss political situation and recent crisis in the PTI ranks.
Fawad Chaudhry, Imran Ismail, Mahmood Moulvi and Aamir Kiani met Qureshi in the prison and tried to convince him to part ways with the PTI chairman, sources told Dunya News.
The meeting underscored the exchange of thoughts on the current political situation. Mr Chaudhry urged Mr Qureshi to come out of jail, saying that it was his priority to have jailed political activists out of jail. "They have to put concerted efforts to pull the country out of the quagmire," he added.
Mr Qureshi said it was the need of the hour to steer people and activists out of difficulty.
Addressing a press conference flanked by Imran Ismail and Mahmood Moulvi, Mr Chaudhry stressed the need to show "collective responsibility" for bringing "several innocent people and activists behind bars".
Stating that the party quitters have held talks, Mr Chaudhry said a detailed discussion was also held with Shah Mehmood Qureshi.
He fired a fresh salvo at the incumbent government, saying that the nation cannot be left at the mercy of the Pakistan Democratic Movement (PDM).
"Those who are in jail had nothing directly to do with these cases and it is our collective responsibility to bring them out. Even what happened before, it is our collective responsibility to stop it," Mr Chaudhry maintained.
Fawad urges Qureshi to come out of jail
Meanwhile, in a post on Twitter, the PTI leader's son Zain Qureshi said Makhdoom sahib is the vice chairman of the party and is the name of an ideology. He stands with the ideology of Tehreek-i-Insaf and the PTI chief. He [Shah Mehmood] has only done politics of principles and service, not position and greed, Zain further said in the tweet.