Imran seeks video link facility to join JIT investigation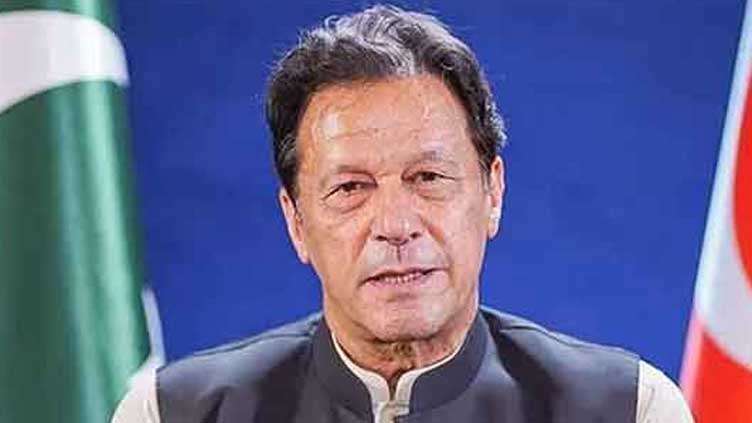 Pakistan
Also available in person at Zaman Park: Imran Khan
LAHORE (Dunya News) – Pakistan Tehreek-e-Insaf (PTI) Chairman Imran Khan on Tuesday did not appear before the Joint Investigation Team (JIT) probing the Jinnah House attack case and requested that he be provided facilities at his Zaman Park residence.
Summons were issued to Mr Khan yesterday. In a response to the summons filed by his lawyers, Ali Ijaz Buttar and Naeem Haider Panjhuta, Mr Khan cited "information from credible sources" that he would be assaulted during public appearances and during interrogation.
He further stated that he was also to appear in court today, requesting that he be allowed to join the investigation through a video link from his home or send a questionnaire containing specific questions for the purpose. "Alternatively, I am also available in person at Zaman Park," read the reply.
Earlier today, Mr Khan submitted surety bonds at an anti-terrorism court in Lahore in three cases relating to May 9 violence.
Advocate Habib submitted the bonds on behalf of the PTI chief who arrived in court with his legal team.
ATC Judge Ijaz Ahmad Buttar had granted bail to Imran in three cases linked to the May 9 violence until June 2, on condition of submitting surety bonds of Rs100,000 each.
The three ATC cases against Mr Khan were registered at different police stations in Lahore following the instances of arson that occurred on May 9 after the PTI chief was arrested by the National Accountability Bureau (NAB) in the £190 million case.
May 30, 2023
Following the submission of the bail bonds to the court, the PTI chief proceeded to the Lahore High Court to fulfill the same requirement in a case. The case pertains to the distortion and hiding of evidence about the alleged murder of PTI worker Zille Shah.
The LHC had already granted Mr Khan pre-arrest bail in the case till June 2.
Prior to Mr Khan's arrival at the ATC, a petition was filed before ATC Judge Abhar Gul Khan requesting permission for Mr Khan's vehicle to enter court premises.
The petition cited the "danger" to the PTI chief's life as the reason for the request. Subsequently, permission was granted and a car with jammers along with other security vehicles left Zaman Park for court.