Eight more handed over to military for trial in May 9 vandalism case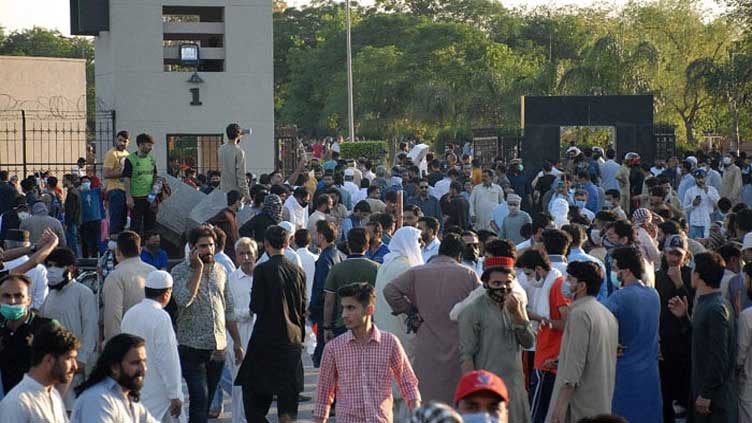 Pakistan
Nominated in army's headquarter attack cases (Pic: AFP)
RAWALPINDI (Dunya News) – An anti-terrorism court (ATC) on Monday handed eight accused in attack on General Headquarters (GHQ) Rawalpindi over to military courts.
Cases were lodged against them at RA Bazar and Civil Lines police stations. The ATC ordered the jail authorities to hand them over to a military commanding officer.
The accused include Idrees, Umar Farooq, Raja Ahsaan, Muhammad Ali, Ali Hussian, Laal Shah, Sheheryar Zulfiqar, and Farhad Khan.
Earlier, Interior Minister Rana Sanaullah said 33 people involved in May 9 riots had been handed over to the military for trial and only six FIRs out of 499 cases could be tried in the military courts.
"Nineteen people from Punjab and 14 from Khyber-Pakhtunkhwa (KP) will be tried in military courts," he told a presser.
The law enforcement authorities had booked them in vandalism at the GHQ gate during the protests that had erupted after PTI chief Imran Khan's arrest.
Two weeks ago, GHQ had released photographs of those who attacked the military's office.
According to sources, 14 people, including four women, were found to be involved in the violent protests. Of them, nine of them were residents of Rawalpindi, three are from Islamabad, one from Karachi and one from Chakwal.
They said that the process of identification of more than 300 people were involved in the violent protests has been completed.
Pakistan army had vowed to proceed against them in military courts.
Chief of Army Staff (COAS) General Asim Munir had, on Saturday, said that the legal process of trial against planners, instigators, abettors and perpetrators involved in the May 9 mayhem commenced under Pakistan Army Act and Official Secret Act as per existing and established legal procedures derived from the Constitution.
PM Shehbaz had also vowed to try May 9 "arsonists" under military laws saying, "The country won't survive if any leniency was shown to the perpetrators of the arsons on May 9 involving the desecration of the martyrs, monuments, and damaging the security installations".