Jahangir Tareen expected to 'launch new political party', meets Aleem Khan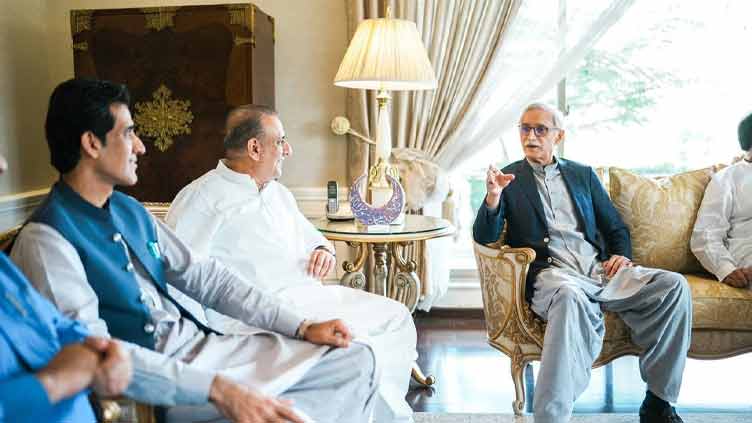 Pakistan
Former PTI stalwarts Tareen and Khan discuss ongoing political situation after PTI exodus
LAHORE (Dunya News) – In a much expected political move, former PTI leader and business tycoon Jahangir Khan Tareen is "most likely" to announce new political party anytime as an important meeting took place at the residence of another ex-PTI leader Abdul Aleem Khan on Monday, sources told Dunya News.
An important political huddle was arranged in the backdrop of ongoing PTI exodus. Participants had a detailed discussion on their roles in the current political situation and formation of a new party, the sources added.
Senior politician Ishaq Khakwani, Awn Chaudhry, Shoaib Siddiqui, and Saeed Akbar Nawani were present at the meeting.
On Sunday, former member of National Assembly from Pakpattan Mohammad Shah Khagga met Mr Tareen. Mr Nawani and Mr Awn were also present in the meeting.
Insiders said that they discussed current political situation of the country and future course of action. Mr Tareen shared photos of the meeting on Facebook handle.
Meanwhile, Tareen has also been reaching out to politicians from Karachi, inner Sindh, Khyber Pakhtunkhwa and Balochistan for the purpose.
A day earlier, he established telephonic contacts with more than 100 political leaders, including current and those leaders who have recently bid adieu to the PTI after the May 9 mayhem.
Tareen was the PTI's secretary general before he was ousted from politics in 2017 after the Supreme Court disqualified him for being "dishonest" on a petition filed by PML-N leader Hanif Abbasi.
Read more: PTI 'deserters' continue meetings with Jahangir Tareen
However, despite the disqualification, Tareen remained part of the PTI and was crucial in wooing independent lawmakers to join the Imran Khan-led party after the 2018 elections. His efforts proved critical as they helped Khan secure the prime ministership in 2018.
Later his relationship with the PTI started deteriorating. In May 2022, former prime minister Imran Khan revealed the reason behind his differences with both leaders, saying Tareen was seeking "illegal benefits from him."
Fawad Ch, Shaukat Tarin contact Tareen
According to insiders, Fawad Chaudhry and Shaukat Tarin have also contacted Mr Tareen. They said that the two leaders, who recently quit the PTI, also discussed the future strategy with Tareen. He reportedly consulted them on the name of his new party.
However, Fawad denied the reports, saying that he had already announced that he was taking a 'break' from politics.
He said that he has no plans to remain in politics.
The insiders revealed that many political families from Muzzafargarh, Dera Ghazi Khan, Lodhran, Multan, and Rajanpur were expected to join Tareen's new party.