Punjab constitutes committee to probe alleged torture of PTI women in jail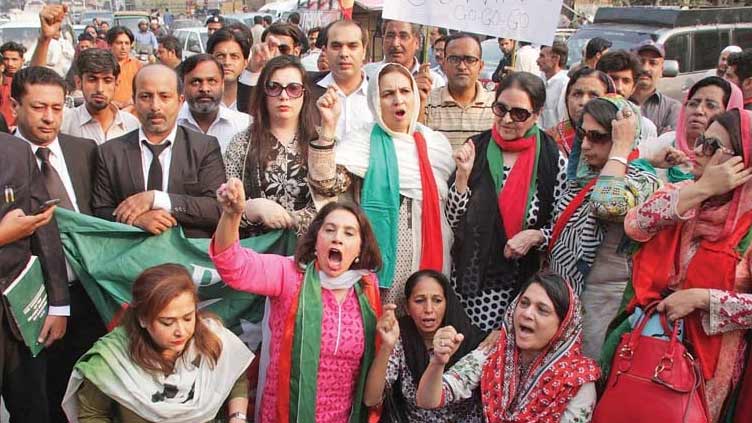 Pakistan
Lahore DC Rafia Haider and SSP Investigation Anosh Masood to investigate the PTI's allegations
LAHORE (Dunya News) – Caretaker Punjab Chief Minster Mohsin Naqvi on Monday formed a committee to investigate the allegation of torture of women in prison.
The two-member committee comprises Lahore Deputy Commissioner Rafia Haider and SSP Investigation Dr Anosh Masood. The team will visit the Kot Lakhpat Jail in Lahore and hold a meeting with women inmates. The committee will investigate the allegations levelled by the PTI in this regard.
Thousands of workers who have been arrested in connection with the May 9 violence also include women, with the PTI claiming that their women supporters have been mistreated in prisons.
Mohsin Naqvi's denial
Earlier in the day, Mr Naqvi said there was no incident of mistreatment of women. "News about women's mistreatment are baseless and misleading. Propaganda is being made about mistreatment of women," he said.
To a question, he said Khadija Shah's identity parade was going on. The question came as a video of Ms Shah went viral on social media on Sunday in which she was seen apologising for her 'actions' on May 9.
Aamir Mir's response
On the other hand, Punjab Information Minister Aamir Mir has also criticised the propaganda of mistreatment of arrested women involved in the May 9 incidents and said it was false and misleading.
He said police were dealing with the women in jails with courtesy according to the law. The person who planned the May 9 events was trying as usual to mislead the public.
Mr Khan's party has been feeling the heat of the state's might after his enraged workers attacked military installations, including the Lahore Corps Commander's House and the General Headquarters in Rawalpindi, following his arrest in a corruption case on May 9 - a day the army dubbed 'black day'.
In an address, PTI Chairman Khan asked the judiciary to intervene in the alleged mistreatment of his women workers during their time behind bars, calling for the Supreme Court to take a suo motu notice on the matter.