SC adjourns hearing of ECP review plea after AGP objects to bench under new law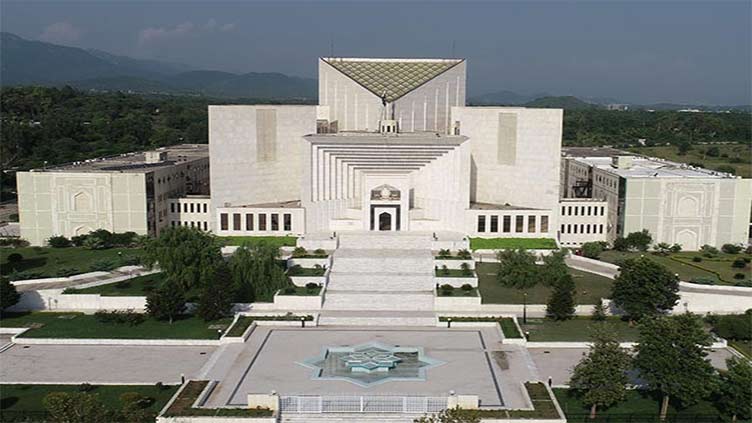 Pakistan
A three-member bench headed by Chief Justice Umar Ata Bandial heard the case
ISLAMABAD (Dunya News) – The Supreme Court of Pakistan on Monday adjourned for an indefinite period the Election Commission of Pakistan's (ECP) review petition on its April 4 order to hold elections in Punjab on May 14 after the attorney general (AGP) said the amended rules of the apex court have come into effect.
A three-member bench, headed by Chief Justice of Pakistan Umar Ata Bandial, resumed hearing in the case. Justice Ijazul Ahsan and Justice Muneeb Akhtar are the members of the bench.
The hearing
Soon after the hearing started, AGP Mansoor Usman Awan came to the rostrum and objected to the three-member bench, informing it that the Supreme Court (Review of Judgements and Orders) Bill 2023 had become law after the president's assent.
The new law deprived the CJP of powers to take suo motu notice in an individual capacity.
AGP Awan stated that after the president's assent, the bill has become a law. "Under the new law, the review and appeal are the same now."
He said that the review could only be heard by a larger bench and raised objections to the bench.
Justice Muneeb Akhtar remarked that "the ECP lawyer has a smile on his face after hearing about the bill."
CJP Bandial said that the apex court would be resuming its hearing on a set of petitions moved to challenge the government-appointed judicial commission to probe audio leaks. "Seek instructions from the government in this regard as well."
"You must have read our order on the audio leaks commission. Keep it in mind that the court didn't declare the commission as nullified," the CJP added.
He said that the court also had to protect the freedom of the judiciary.

The review petition
The ECP filed a review petition on May 3 on the Supreme Court's April 4 order.
In its 14-page petition, the ECP argued that the judiciary does not have the authority to fix the dates of elections. It argued that the court disregarded its constitutional jurisdiction.
The ECP claimed that the Supreme Court's review was necessary to correct an error that is against the constitution. It accused the apex court of overstepping its boundaries and transgressing its powers.
The order
In an unequivocal verdict delivered on April 4, the bench unanimously nullified the ECP's decision to postpone the elections in Punjab from April 10 to October 8. Instead, the court set May 14 as the new date for the elections.
The court also directed the federal government to allocate Rs21 billion for the elections in Punjab and Khyber Pakhtunkhwa. The court ordered provision of a comprehensive security plan for the upcoming elections.