Maryam thanks army for defending country's nuclear programme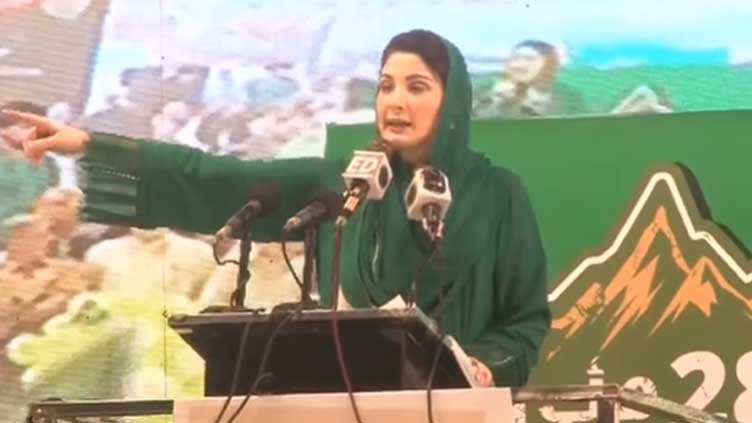 Pakistan
Maryam Nawaz heaps praise on Nawaz Sharif
LAHORE (Dunya News) – Pakistan Muslim League-Nawaz (PML-N) Senior Vice President Maryam Nawaz on Sunday thanked the Pakistan Army for defending the country's nuclear programme.
Addressing a rally in Lahore, Ms Nawaz also thanked other law enforcement agencies, politicians, scientists, and engineers who played an important role in the country's nuclear programme.
Taking a fresh jibe at Pakistan Tehreek-e-Insaf (PTI) Chairman Imran Khan, she said, " The world remembers those people who are not involved in vandalism and develop the country". Ms Nawaz praised the PML-N supremo, saying, "Nawaz Sharif name can be underscored in terms of the development and defence of the country."
"When Nawaz Sharif decided to approve a nuclear test, the world mounted pressure on the country. Even Bill Clinton asked Nawaz Sharif not to conduct a nuclear test," she added.
"It was even said that the country would face sanctions, but Nawaz Sharif faced all the challenges. Despite facing political vendetta, the PML-N did not split. Nawaz Sharif's aides stand firmly with him," Ms Nawaz maintained.
Ms Nawaz said that the incidents of May 9 and May 28, show the difference between the leadership. "Every citizen gave thanks for the day when the country became a nuclear power. On the other hand every citizen bowed head in shame, during the events that transpired on May 9," she rued.
"On May 9, Pakistan saw scenes that we only saw in Afghanistan or countries prone to terrorism," Ms Nawaz added.
Later, an audio message of former prime minister Nawaz Sharif was played at the end of the ceremony in which he felicitated the whole nation on 25 years of atomic explosions.
He said the then government refused international pressure and made atomic explosions. He said the country was progressing under his rule but the process of development was stopped by ousting him from government three times.
Former premier said that prevailing challenges were resolved by the PML-N leadership whenever it was given a chance to serve. He added those who push the country backward were getting exposed before the nation due to their political decisions.
National anthem and songs were also played to celebrate the Youm-e-Takbeer. A large number of party workers and leaders participated in the gathering.