Rana Sanaullah accuses PTI of conspiring false flag operation to malign LEAs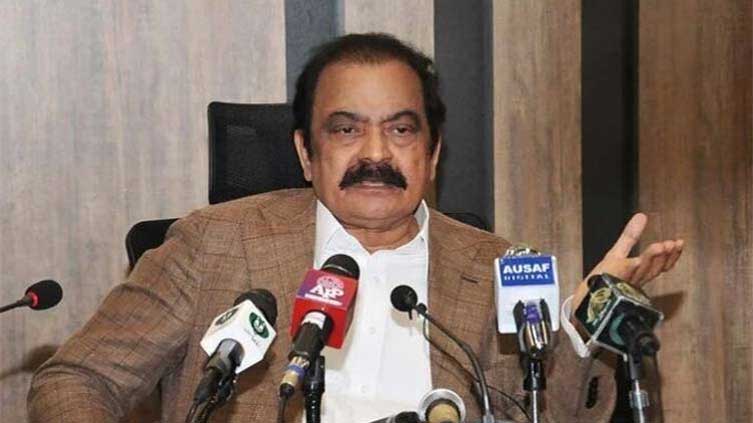 Pakistan
Interior Minister claims PTI was caught red-handed after a call between PTI leaders was intercepted
FAISALABAD (Web Desk)- Interior Minister and PML-N leader Rana Sanaullah on late Saturday claimed that the intelligence agencies had intercepted a conversation indicating that the PTI was planning two separate actions -- action at a house [of PTI leader or worker] and "rape act".
Addressing a hurriedly called presser in Faisalabad, he said the intelligence agencies had intercepted a call between PTI leaders indicating that they were planning to stage a fake operation to blame the government for inhumane acts.
The minister revealed that PTI is planning a drama according to which some members of Law Enforcement Agencies (LEA's) would be portrayed as raiding PTI workers' home and committing atrocities like murder and rape.
Sanaullah further added that the drama was planned to be executed tonight or anytime soon that is why it was inevitable to brief the nation about this programme. The heinous act was intended to create an upheaval in international media and devastate the image of Pakistan internationally.
Moreover, he said, PTI leaders are the main conspirators behind May 9th atrocities. While talking on the issue of military courts the minister said that only a handful people that directly attacked the military installations would be tried under the Army Act whereas all the other rioter would be presented in civil courts.
He also said that the Prime Minister have issued directions that no innocent should be persecuted under the blame of the mayhem Pakistan have experienced recently and only the real culprits should be brought to law.
The timing of the press conference holds paramount importance as currently majority of the main leadership of PTI is either withering away or their homes are been ransacked by police during raids. Also, the Supreme Court have also taken up a case to investigate into some alleged audio leaks which implies that the act of call-tapping for security purposes is also contended at the time.
The conference holds a vital importance through raising questions on the future plans of PDM government that either the law will come into action against such nefarious designs or the issue will be done and dusted after the presser.