Imran Khan forms seven-member committee to hold talks with PDM govt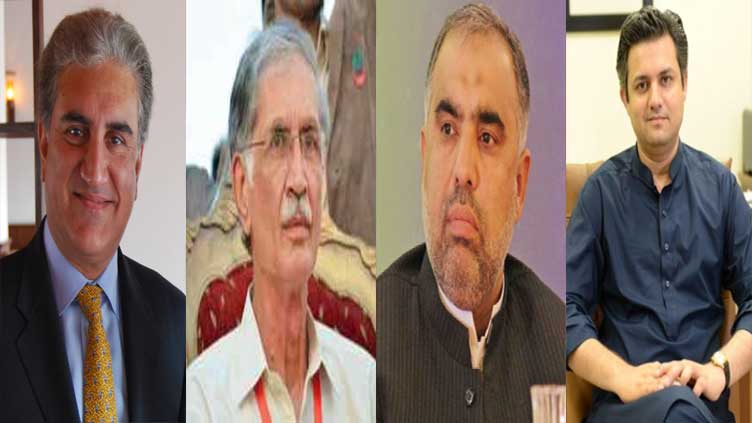 Pakistan
Says Shah Mahmood Qureshi will lead PTI if he is disqualified
LAHORE (Dunya News) - PTI chief Imran Khan on Saturday constituted a seven-member committee to hold talks with the PDM-led government.
It comes a day after he appealed the political stakeholders to hold "immediate talks" as the party had been seeing scores of its members parting their ways.
The committee includes senior vice president Shah Mehmood Qureshi, Parvez Khattak, Asad Qaisar, Haleem Adil Sheikh, Aon Abbas Buppi, Murad Saeed, and Hammad Azhar. Some of the leaders he named are either in jail, hiding from arrests, or being speculated about leaving the party amid PTI's mass exodus.
— PTI (@PTIofficial) May 27, 2023
Earlier, talking to group of journalists, Mr Khan said "If I am disqualified, Shah Mehmood Qureshi will run the party".
Don't Miss: Nawaz Sharif shuns Imran's offer for talks

He said he would unleash surprises in the coming days, adding that the time was about to change. "Young people will be allotted tickets for elections, and I know that the PTI will win polls," he added.
"Hold a referendum and you will see the result yourself," he said.
He went on to say that if he was arrested, PTI leaders including Shah Mehmood Qureshi, Parvez Khattak, and others would run party affairs. "I am not at odds with the army," he added.
Some of those who left the party were forced to do so, he said, while others showed their real faces.
Mr Khan said he could swear that he never asked his party activist to vandalise [national buildings], adding that how could he ask them to do so now even when he did not allow so after he survived an assassination attempt [in Wazirabad]. "If the PTI is popular with public, why will it adopt the policy of siege," he asked.
He said President Arif Alvi would continue in line with the constitution. "I have summoned a meeting of my legal team to deliberate the release of detained party workers," he added.
Taking to Twitter hours ago, he wrote, "While the country's economy is crashing right before our eyes, all this fascist govt is thinking of, are more coercive and oppressive measures to crush PTI".
— Imran Khan (@ImranKhanPTI) May 27, 2023
On the other hand, the government ruled out the possibility of holding talks with the PTI, with information minister Marriyum Aurangzeb saying, "Talks could not be held with those who attacked the state". "Mr Khan is not appealing for negotiations, he is, in fact, seeking an NRO," he added.
PTI appoints Omar Ayub Khan as secretary general
As former PTI secretary general Asad Umar resigned from his post, Mr Khan replaced him with Omar Ayub Khan.
— PTI (@PTIofficial) May 27, 2023
IHC orders Qureshi's release
Hours earlier, the Islamabad High Court had declared the arrest of PTI leaders including Mr Qureshi, Maleeka Bokhari, and Ijaz Chaudhry "illegal" under 3MPO - the law various PTI leaders have been detained under.
Mr Qureshi had been, on Tuesday, rearrested from outside Adiala Jail after the IHC had ordered their release.
Before being detained, he said "I am not leaving the party. I am with the party, and I will stay with the party".
Hammad Azhar claims 'another attack' at his house
Mr Azhar, on Friday, said his house was "attacked again on Thursday" as the party's exodus continues. Taking to Twitter, he wrote that his home was attacked when his mother was alone inside the house.
— Hammad Azhar (@Hammad_Azhar) May 26, 2023
Imran says 'only CJP Bandial can save Murad's life'

Mr Khan, on Thursday, said only Chief Justice of Pakistan Umar Ata Bandial could save Mr Saeed's life. Taking to Twitter, the deposed premier had asked the CJP to "do whatever it takes" to protect the life of Mr Saeed. The former prime minister shared a letter written by Mr Saeed to the top judge.