Lahore police fail to arrest Parvez Elahi despite repeated attempts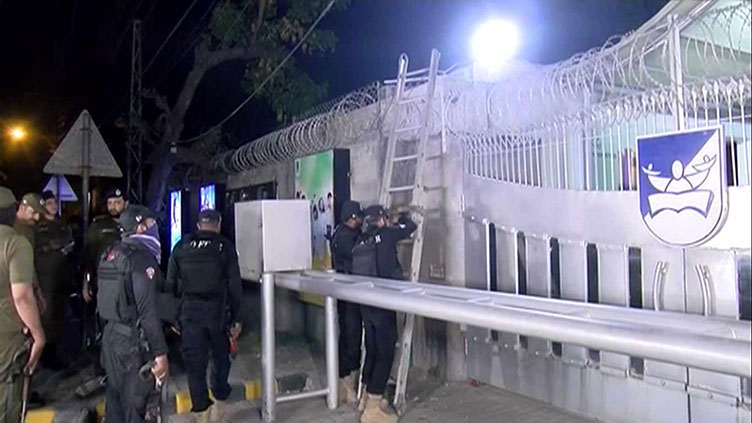 Pakistan
Police laid siege around the PTI leader's house till Friday morning
LAHORE (Dunya News) – Police failed to arrest Pakistan Tehreek-e-Insaf (PTI) president Parvez Elahi on Thursday but kept siege around the PTI leader's house on Zahoor Elahi Road till last reports came in on Friday morning.
A heavy police contingent reached Parvez Elahi's residence after the cancellation of his bail by an anti-corruption court. A case was lodged against the PTI president at the Ghalib Market police station for interfering in the affairs of the state, while he is also accused of misusing power and irregularities in the development funds.
Sources said DIG Operations Sadiq Ali Dogar, Model Town SP Operations Ammara Sherazi and SSP Operations Sohaib Ashraf, along with a heavy contingent of police, reached the residence of Parvez Elahi.
The legal team of Parvez Elahi informed police that he was not present in the house and they would cooperate with police to search the house after showing the arrest warrant.
Meanwhile, the spokesperson for the PTI president said police searched the entire house and left empty-handed as Mr Elahi was not present at home.
Sources said all roads leading to Mr Elahi's house were blocked. "Police also searched houses and a private school adjacent to Mr Elahi's residence," sources added.
Earlier, an anti-corruption court of Lahore rejected Mr Elahi's bail petition in a case of alleged corruption in development projects.
Mr Elahi's lawyer told the court that the former chief minister was suffering from chest pain and could not appear in court. The prosecution argued that the medical certificate submitted by Parvez Elahi's counsel in court was fake.
The court dismissed the interim bail plea of Parvez Elahi on the ground of non-compliance and also rejected the PTI leader's request for attendance waiver.