ACE returns after search but police make another effort to arrest Parvez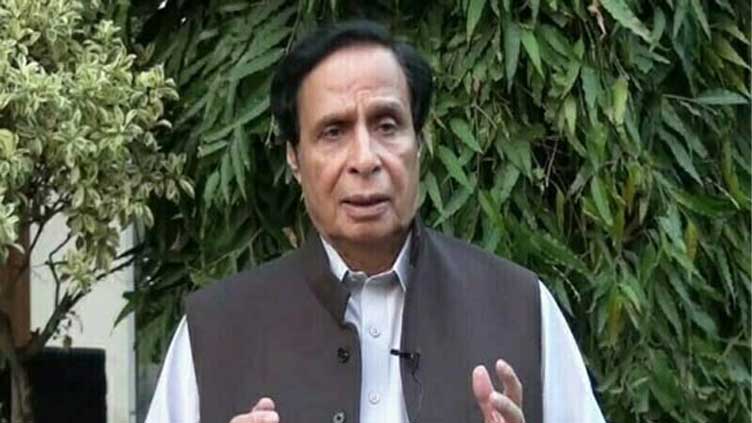 Pakistan
Raid his house to arrest him
LAHORE (Dunya News) – Police on Thursday night once again reached outside PTI president Parvez Elahi's house after a team of the anti-corruption establishment (ACE) returned empty-handed.
Sources said DIG Operations Sadiq Ali Dogar, SP Operations Model Town Ammara Sherazi, and SSP Operations Sohaib Ashraf came back outside his house. "Heavy contingent of police has also been summoned," sources added.
Sources said all roads leading to Mr Elahi's house were blocked. "Police will search Mr Elahi's neighbourhood," sources added.
Mr Elahi's lawyer said the ACE team did not have search warrants, adding that it asked us to cooperate without warrants. "We let them in," he added.
Earlier, Punjab police, lead by SSP Operations Sohaib Ashraf, entered Mr Elahi's house in a bid to arrest him in connection with a case unknown so far. A team of law-enforcement agencies, lead by Punjab police had shown up at Mr Elahi's house.
As police showed search warrants to Mr Elahi's lawyers, they said Mr Elahi was not present inside the house, adding that we would aid you to search the house. "If you do not comply with both things, then do whatever you want to do," they added.
Reports said that SP Sherazi reached the house with heavy contingent of police, adding that police had been deployed outside the entrance and exit of his house. "Mr Elahi is not present inside his house," sources had said.
Earlier, an anti-corruption court of Lahore rejected Mr Elahi's bail petition in a case of alleged corruption in development projects.
Mr Elahi's lawyer told the court that the former chief minister was suffering from chest pain and could not appear in the court.
The prosecution argued that Parvez Elahi's medical was fake. During the hearing, the judge remarked, "Show me the reports and I will decide now."
Elahi says 'standing beside Imran Khan'
On Monday, Mr Elahi said he stood firm beside PTI chief Imran Khan. His statement came after rumours started circulating on social media about him quitting the presidency as his cousin and former PTI leader Ch Wajahat Hussain parted his ways with the party and returned to the PML-Q.
Talking to the media, he said he would stand firm beside the PTI chief. "Mr Khan gets the biggest credit for making him the president, adding that he fulfilled his duty. "I and Moonis are not against Wajahat," he added.
Ch Wajahat Hussain sees family uniting after he, his son quit PTI
Mr Elahi's cousin and ex-PTI leader Ch Wajahat Hussain and his son Hussain Elahi announced leaving the party and returned to their parent-party PML-Q.
Addressing a press conference, Mr Hussain said his father Wajahat Hussain had returned to the PML-Q after May 9 violence, adding that he was obedient to his father's decisions. "Whatever happened on May 9 is unforgettable and unforgivable," he added.

Mr Wajahat had said, "The family could be seen together in the future".
Two ex-MPAs of Parvez Elahi's group slide away from PTI
Following Mr Hussian, two former MPAs Ihsanul Haq and Dr Muhammad Afzal, who were part of Mr Elahi's group, slid away from the PTI on Wednesday.
Both leaders had been allotted PTI tickets. Mr Haq was the MPA from PP-247 and while Mr Afzal had been elected from PP-248.
Commenting on their departure, Mr Elahi's son Moonis Elahi took to Twitter to write, "It seems you both have got good treatment".
— Moonis Elahi (@MoonisElahi6) May 25, 2023