Imran among hundreds of PTI leaders placed on no-fly list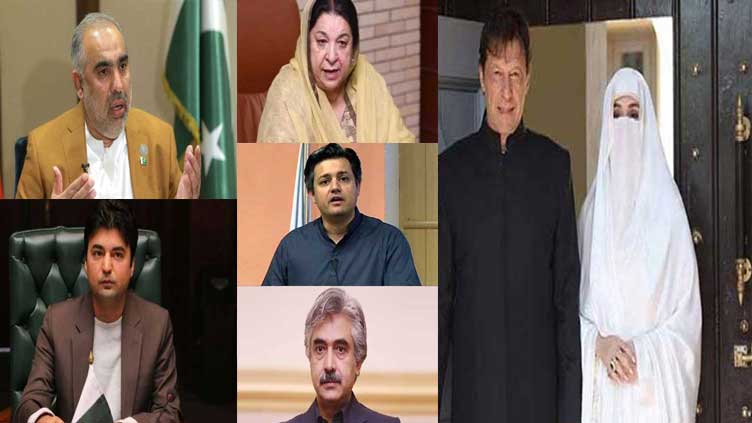 Pakistan
The authorities were directed to strictly enforce the ban
ISLAMABAD (Dunya News) – The Ministry of Interior on Thursday placed the names of hundreds of Pakistan Tehreek-e-Insaf (PTI) workers, including former prime minister Imran Khan and his wife Bushra Bibi, on the no-fly list, effectively barring them from leaving the country.
Sources said the no-fly list included prominent PTI figures such as Qasim Suri, Asad Umar, Asad Qaiser, Aslam Iqbal, Yasmin Rashid, Murad Saeed, Maleeka Bukhari, Fawad Chaudhry and Hammad Azhar.
The ministry of interior has taken action to ensure that the names of these individuals are provided to all airports and exit points across the country. The authorities concerned have been directed to strictly enforce the ban and prevent any of the listed individuals from travelling abroad.
Read More: PTI leaders who have jumped ship after 9/5
After the arrest of former premier Imran Khan, violent protests erupted in many parts of the country. After this, efforts were started to detain those involved in attacking security installations.
Several PTI leaders parted with the party citing several reasons after condemning riots that took place on May 9.
Former ministers Shireen Mazari and Fayyazul Chohan were among the political figures who announced to say goodbye to the party. Among others who parted ways are Aamir Mehmood Kiani, Malik Amin Aslam, Mahmood Moulvi and Aftab Siddiqui. The announcements came through press conferences where the party leaders were seen publicly denouncing the attacks on the state installations.
Former minister Shireen Mazari said goodbye to politics at a press conference on Tuesday. She also condemned the violence that erupted on May 9 last after the arrest of former premier Imran Khan. She said her family was her priority.
Read More: PTI bigwig Fawad Chaudhry leaves PTI to 'take break' from politics
Chohan told media that he said his family was imbued with the love of army, adding that he would keep uncovering the conspiracies against Pakistan. "No one from the party leadership tried to stop PTI chief Imran Khan from doing violent politics," he added.
"It was only me who tried to convince Mr Khan to do non-violent politics," he said. "Consequently, he was banned from entering Zaman Park after he was granted the designation of media adviser by Mr Khan," he added.
He went on to say that he had conveyed a message to Mr Khan to keep his struggle purely political instead of targeting institutions. "I told Mr Khan that the people around you are not advising you right," he added.
PTI chief Imran Khan found a new trend what he termed as "forced divorces" in the wake of goodbyes to the PTI.