NA adopts resolution to try miscreants under army, anti-terrorism laws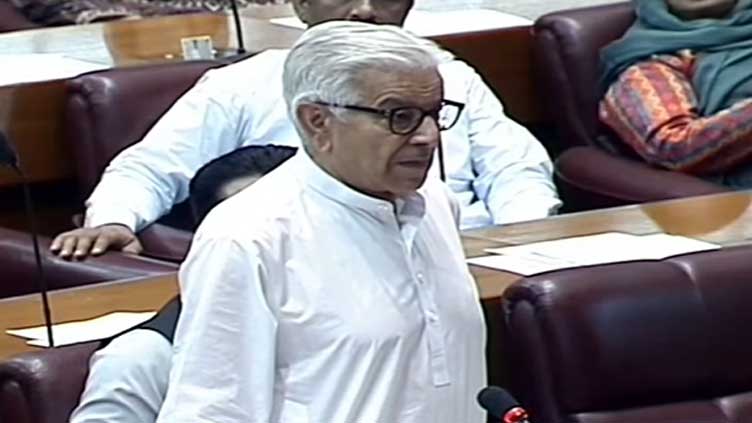 Pakistan
Heartbreaking events took place on May 9, laments Khawaja Asif
ISLAMABAD (Dunya News) – The National Assembly passed on Monday a resolution vowing to try rioters involved in the May 9 attacks on army and state installations under existing laws, including the Army Act and the Anti-Terrorism Act.
The resolution moved by Defence Minister Khawaja Asif was passed by the House, and a large number of lawmakers voted in favour of it.
— National Assembly (@NAofPakistan) May 22, 2023
Reading out the resolution, Mr Asif said, "Heartbreaking events took place on May 9. The day should be counted as a black day".
The National Assembly had passed a resolution stating that the authorities concerned will be empowered to deal with social media propaganda against Pakistani institutions inside and outside the country.
"The persons involved in such propaganda campaigns should be dealt with strictly according to the law," added the resolution. According to Mr Asif, the resolution was a way of condemning the events of May 9 by the parliament.
Read also: 9/5 attacks reflect 'anti-state' agenda, says PM Shehbaz
Taking a jibe at Pakistan Tehreek-e-Insaf (PTI) Chairman Imran Khan, Mr. Asif said he strongly condemned the violent protests that took place on the day Imran Khan was arrested and immunity from attacks on military installations.

"India has regularly attacked bases in Pakistan, but he said the attack was the first in the country from Mianwali and by a staunch supporter of the former prime minister who single-handedly identified military sites," he maintained.
Mr Asif emphasised the need to identify the faces of those involved in the attack on military installations.
Highlighting the importance of defending the national security institution, Mr Asif said, "It is the duty of every member of the parliament to defend the Pakistan Army, even in the absence of an incident like the May 9 vandalism."