Elahi says standing behind Imran Khan in 'difficult times'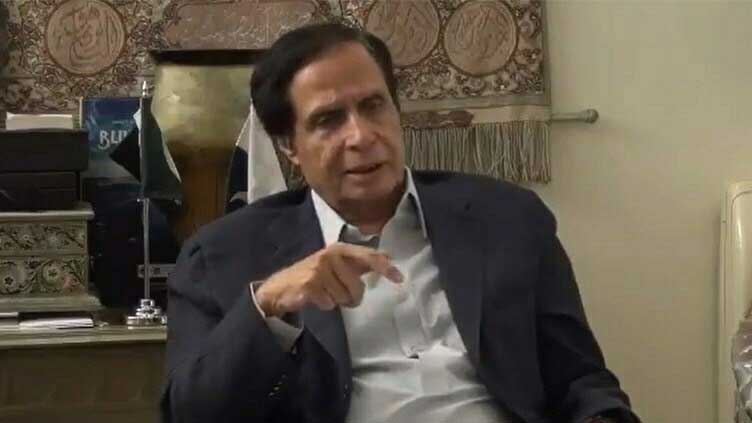 Pakistan
Clarifies as reports make rounds on social media
LAHORE (Dunya News) – PTI president Parvez Elahi on Monday said he stood firm behind PTI chief Imran Khan.
His statement comes after rumours started circulating on social media about him quitting the presidency as his cousin and former PTI leader Ch Wajahat Hussain parted his ways with the party and returned to the PML-Q.
Talking to the media, he said he would stand firm behind the PTI chief. "Mr Khan gets the biggest credit for making him the president, adding that he fulfilled his duty. "I and Moonis are not against Wajahat," he added.
He went on to say that the army was his institution, adding that he had always been the supporter of having good relations with the establishment. "Mr Khan fulfilled his promises with us and it is our duty to stand behind him in difficult times," he added.
Earlier, PTI leader Moonis Elahi on Monday rebutted claims of his father and PTI president Chaudhry Parvez Elahi resigning after rumours started making rounds on social media.
Taking to Twitter, he termed the news as fake.
— Moonis Elahi (@MoonisElahi6) May 22, 2023
Earlier, in a surprise move, Mr Elahi's cousin Chaudhry Wajahat Hussain announced his departure from the PTI and reached out to his brother Chaudhry Shujaat Hussain, Pakistan Muslim League- Quaid chief, to unite the country through politics.
Chaudhry Wajahat Hussain arrived at the Pakistan Muslim League House to meet Chaudhry Shujaat and expressed his belief that the country needed decent politics which should be a glue. He also stated that the family could be seen together in the future.
In response, Mr Shujaat emphasised the importance of bringing Pakistan out of economic difficulties and condemned the events of May 9, calling for the family to walk together and bridge the rift created by the ego.
Chaudhry Shafay Hussain also revealed plans for seat adjustment with the Pakistan Muslim League-N in the upcoming election and urged Parvez Elahi to bridge the split within the family.
Responding to a query on the future of Imran Khan, he said, it was packed with lies, adding that the youth should realise this.
So far, over a dozen PTI leaders including key members Aamer Mehmood Kiani, Amin Aslam, and Mehmood Moulvi have left the party after the party was alleged to have involved in attacks on military installations including the Lahore's Corps Commander House and the Rawalpindi's General Headquarters.
The military, in response, vowed to try all involved under army laws. Earlier, Chief of Army Staff (COAS) General Asim Munir said that the legal process of trial against planners, instigators, abettors and perpetrators involved in the May 9 mayhem commenced under Pakistan Army Act and Official Secret Act as per existing and established legal procedures derived from the Constitution had been incepted.
Meanwhile, family said Parvez Elahi had not been in contact since Sunday night.