PDM calls off sit-in outside SC, wants CJP to step down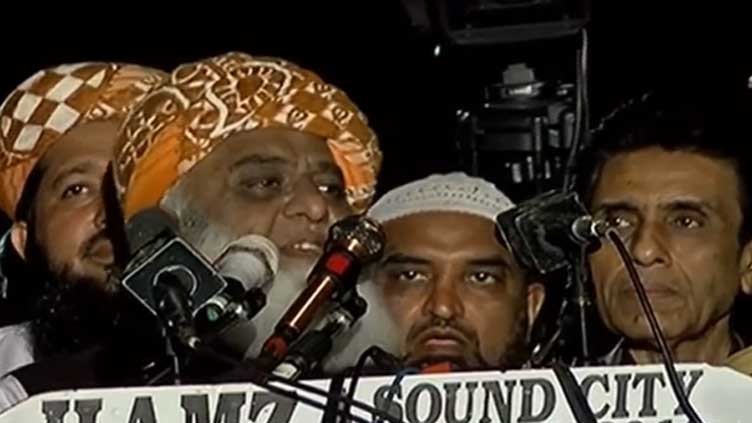 Pakistan
PDM will not accept 'engineered verdicts', says Fazlur Rehman
ISLAMABAD (Dunya News) – Pakistan Democratic Movement (PDM) chief Maulana Fazlur Rehman on Monday called off sit-in outside the Supreme Court of Pakistan (SCP), saying the coalition government would not accept "engineered verdicts".
The PDM chief spoke at length against the pro-Imran Khan decision of Chief Justice Umar Ata Bandial. He had earlier announced sit-in and gave a call to PDM activists to converge in the federal capital.
The PDM show comes days after the Islamabad High Court (IHC) granted PTI chief Imran Khan relief in multiple cases as Chief Justice of Pakistan (CJP) Umar Ata Bandial had declared Mr Khan's arrest in the Al-Qadir Trust corruption case "illegal".
Accusing CJP Bandial of "misconduct of court" during his address at PDM's sit-in outside Supreme Court, he said CJP Bandial and his "company" were maligning the judiciary. "We want to restore judiciary's respect," he added.
It would make no difference if few people sitting inside this building were sacrificed, he said.
He went on to say that if judged by the outcome, it would reflect that the verdicts were engineered. "If you [CJP] and your fellows degrade us, know that we are stronger than you," he added.
The PDM chief said if they [the judiciary] wanted to do politics, they should come out and do it. "Then, we'll see your worth," he added. All security must set aside, he said, they would secure this building [of the SC].
Mr Rehman continued by saying that top judges were conniving to disqualify PM Shehbaz Sharif. "If you do this, you will not find a safe place to hide," he said. We would protect, he said, our PM [in the parliament].
"You are safeguarding a person who attacks the army and security installations without any reason," he said. "We'll come again in large numbers on the constitution avenue," he added.
Maryam lays blame for turmoil at SC's door, seeks CJP Bandial's scalp

PML-N chief organiser Maryam Nawaz said the crisis the country had been grappling with in recent times brewed less from PTI chief Imran Khan's residence in Zaman Park and more from Chief Justice of Pakistan (CJP) Uamr Ata Bandial's chair.
Addressing the PDM's sit-in, she said it all started when an irrelevant suo-motu notice was taken, constitution was rewritten, and [Article] 63-A was misinterpreted. "The building [of the SC] is meant to strengthen the democracy and bring "terrorists" to accountability", she added.
"It indicted former PM Nawaz Sharif but when a culprit of Rs60 billion [Imran Khan] appeared, he was welcomed," she decried.
Did they [SC judges] ever send any dictator home, she asked. "Now when the military is not willing to impose martial law, and standing beside the constitution and democracy, this building is imposing judicial martial law," she added.
Free and fair elections could not be held until Mr Bandial was the CJP, she said. "[CJP Bandial] Tender your resignation and go home," she added.
دیکھیں انصاف کا خون کیسے کیا.
ایک ہی دن میں عمر عطا بندیال صاحب اتنے متحرک ہوگئے ایک ہی دن میں پٹیشن دائر بھی ہوگئی فکس بھی ہوگئی ایک ہی دن میں نوٹسز بھی ہوگئے ایک ہی دن میں ضمانتوں کی بارش بھی ہوگئی.چیف آرگنائزر مسلم لیگ ن مریم نوازشریف#عدل_بحال_کرانا_ہے pic.twitter.com/YlYZn6HW9L

— PMLN (@pmln_org) May 15, 2023
She said she wanted to ask CJP Bandial whether he was happy seeing large swathes of "real people" on the Constitution Avenue [the place the PDM is staging the protest at] or not. "No one damaged anything during the protest," she added.
Ms Nawaz went on to say that the PDM respected the SC adding that it did not want to stage protest because the court was the source of everything the country got. "We will only talk about judges who facilitated Mr Khan," she added.
"Whenever the country suffers damage, it comes through this building," she claimed.
She continued by saying that the pen CJ Bandial used to back Mr Khan derived its power from people and their elected representatives, adding that ill-intentioned people were sitting in the SC.
The PML-N chief organiser said CJP Bandial abused his power to change the 4-3 verdict to a 3-2 verdict. "Why should we agree with verdict that was based on ill intentions and lies," she asked. "You facilitated Mr Khan in a way that you were called "politician in robes" by your fellow judges and no one else", she said.
CJP Bandial dethroned former Punjab CM Hamza Shehbaz and launched a CM who dissolved the assemblies afterward, adding that President Alvi also connived in it. "However, the biggest character of that conspiracy was CJP Bandial," she added.
پارلیمنٹ جو تمام اداروں کی ماں ہوتی ہے جہاں سے آئین و قانون نے جنم لیا اس پارلیمنٹ سے ٹکر لیکر بیٹھ گئے ہو؟ ابھی تو قانون ماں کے پیٹ میں تھا اور تم سانپ بن کے اس پہ بیٹھ گئے ہو.چیف آرگنائزر مسلم لیگ ن مریم نوازشریف pic.twitter.com/mGsY8KrnLH

— PMLN (@pmln_org) May 15, 2023
The chief justice was asked if he would announce elections after the assemblies were dissolved [in Punjab and KP] and he agreed to it, she claimed. "I ask CJP Bandial if people were eager for elections, why did not they come out to vote on May 14," she asked.
She said another culprit was former CJP Asif Saeed Khosa who wiped Mr Sharif away from politics. "They [SC judges] do not safeguard Mr Khan only but they are corrupt themselves too," she added.
Ms Nawaz claimed that the Twin tower in Islamabad was the clear evidence of SC judge Justice Ijazul Ahsan's corruption. "Another SC judge Mazahir Naqvi is under investigation for his corruption and CJP Bandial is openly leading them," she added.
Highlighting attacks on security installments, she said they [SC judges] had been feeding Mr Khan and he did what even Pakistan's enemies could not do. "However, what disappoints me the most is the attack on Corps Commander's house in Lahore," she added. Quaid-e-Azam's house in India was safe, she lamented, but his house in his country was not safe.
We also crticised the establishment and named Generals. "GHQ was attacked two times; first by the TTP and for the second time by Mr Khan," she added. Mr Khan trained masses in the guise of his bruised leg, she said. It took six months to rain them, she claimed. Citing PTI's attacks on the PTV and the parliament in 2014, she said "your history is replete with terrorism".
She said Mr Khan suggested DG ISPR make a political party. "The ISPR must be thinking that they should first settle the score with the party [the PTI] they had made in 2014," she mocked.
No one ever committed contempt of court as much as Bandial did, she said. "If the parliament ever passes the bill, CJP Bandial will be the first to face it," she added. Bail law was never mocked in the world the way it had been done in the SC, she claimed.
Earleir, PDM leaders Maulana Fazlur Rehman and Maryam Nawaz arrived at the PDM protest outside the Supreme Court building.
They were accompanied by Mehmood Khan Achakzai, Aftab Sherpao and Awais Noorani.
JUI-F activists storm Red Zone

Earlier, a large number of JUI-F activists and supporters entered the Red Zone after scaling a gate and overcoming other obstructions, prompting police and FC personnel to step aside.
The activists, armed with clubs, appeared in large numbers and entered the prohibited area after breaking open the gate the administration had locked to prevent their entry. The situation emerged after talks between Maulana Fazl and the PML-N leaders failed on the venue for the protest.
رکاوٹیں ہٹا کر عوام کا جم غفیر سپریم کورٹ کی جانب روانہ#مولانا_آرہا_ہے pic.twitter.com/T95lNXs1nj

— Jamiat Ulama-e-Islam Pakistan (@juipakofficial) May 15, 2023
The Pakistan Democratic Movement (PDM) had decided to hold a sit-in in Islamabad today (Monday). However, no decision was taken whether the sit-in would be held outside the Supreme Court of Pakistan or elsewhere.
Jamiat Ulema-e-Islam (JUI-F) chief Maulana Fazlur Rehman said he would lead the sit-in by the PDM. Fazl is also head of the PDM and announced that the activists would hold a sit-in outside the Supreme Court.
The Jamiat Ulema-e-Islam (F) had submitted a request to the deputy commissioner (DC) Islamabad on Sunday, seeking permission to hold a sit-in outside the Supreme Court. The JUI-F had also requested security for the participants and other related arrangements.