Judges cannot object to bench formed by CJP: SC judge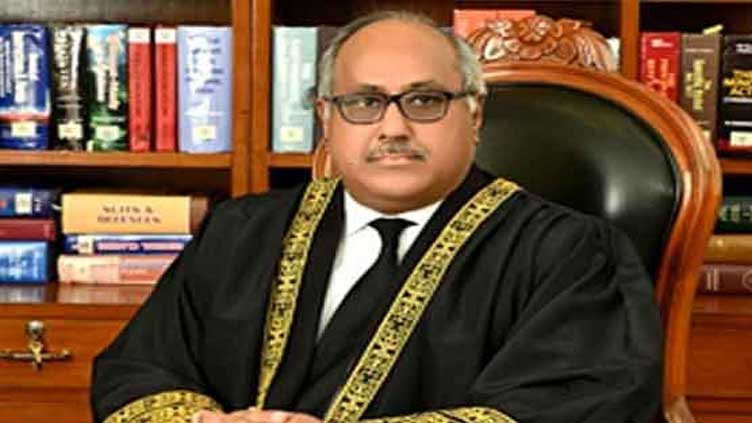 Pakistan
Justice Shahid Waheed dissents to fellow judges' judgment
ISLAMABAD (Dunya News) – Supreme Court judge Justice Shahid Waheed on Thursday remarked that it was the Chief Justice of Pakistan's (CJP) administrative prerogative to form a bench and SC judges could not object to it.
Justice Waheed wrote this in his dissenting note written in the verdict of the case about awarding 20 marks to Hafiz-e-Quran. The judge dissented from Justice Qazi Faez Isa and Justice Ameen ud Din's remarks.
Justice Waheed further wrote that court issued verdict on the points that had not been part of the suo motu case. He ordered the Attorney General and PMDC to submit a reply.
Citing suo motu notice 4/2022m he wrote that if the judge were objecting to the formation of bench, they could have recused themselves form hearing the case.
Earlier, a new bench of the Supreme Court had been constituted to hear the elections' case on Friday.
The five-member bench of the Supreme Court of Pakistan hearing a case regarding delay in elections in Punjab and Khyber Pakhtunkhwa was dissolved on Thursday after Justice Aminuddin Khan rescused himself from the bench.
Originally, a bench headed by Chief Justice Umar Ata Bandial and comprising Justice Ijazul Ahsan, Justice Munib Akhtar, Justice Aminuddin Khan and Justice Jamal Khan Mandokhail, was hearing the petition filed by the Pakistan Tehreek-e-Insaf (PTI).
As today's hearing was resumed, CJP Bandial said Justice Khan wanted to say something. Later, Justice Khan said he could not be part of the bench after his yesterday's verdict regarding suo motu cases.