SC bench will make no difference to PTI, says Imran Khan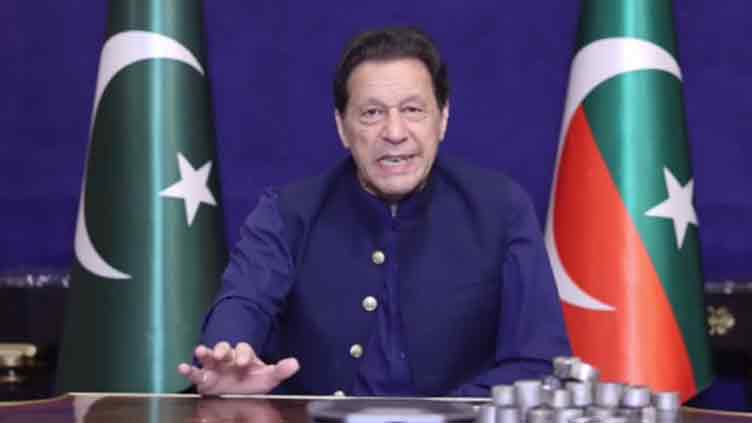 Pakistan
Imran accuses govt, electoral watchdog of making mockery of constitution
LAHORE (Dunya News) – Pakistan Tehreek-e-Insaf (PTI) Chairman Imran Khan said on Thursday that the Supreme Court bench will make no difference to his party.
Taking to Twitter, the deposed premier said, "All we want to know is if elections will be held within the 90 days' constitutional provision. Before we dissolved our two provincial assemblies, I consulted our top constitutional lawyers, all of whom were absolutely clear that the 90-day constitutional provision on holding elections was inviolable."
— Imran Khan (@ImranKhanPTI) March 30, 2023
Slamming the political opponents, Mr Khan said, "Now the imported government of crooks, their handlers, and a compromised Election Commission of Pakistan (ECP) are making a complete mockery of constitution. By cherry picking which articles of the constitution they will abide by, they are threatening the very foundation of Pakistan, which is the constitution and rule of law."
"So petrified are they of elections and so desperate to whitewash their convicted leaders that they are prepared to destroy the constitution and any semblance of rule of law," added Mr Khan.
Read also: Imran assails govt over tabling bill aimed at curtailing CJP's powers
On Wednesday, Mr Khan vowed to forward a reform agenda if his party returns to power.
A delegation of retired session judges called on the deposed premier, during which Mr Khan pinched hope for forming the government with a huge mandate in the near future.
In connection with the judiciary, Mr Khan said, "In the past, many of the judges were appointed as ROs. There were also many judges whose job was to deal with anti-corruption cases."
He stressed the need for providing protection to ordinary citizens, saying, "We need to think about how we can provide protection to the common citizens."
Read also: Will organise seminars in Karachi to highlight human rights violations: Imran Khan
Mr Khan vowed that his party will ensure the supremacy of law in a bid to develop society – which is a need of the time.
Speaking about the negotiations, Mr Khan said, "The PTI is not hesitating in connection with the negotiations. But the objectives behind the dialogues will be the one-point agenda of announcing the elections."