Either Imran Khan or his political opponents will survive: Rana Sanaullah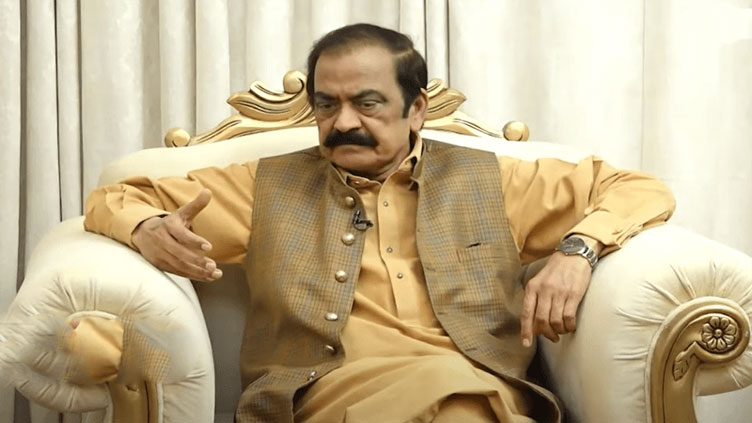 Pakistan
Federal Interior Minister alleged that Mr Khan brought politics to a point of no return
LAHORE (Web Desk) – Federal Interior Minister Rana Sanaullah said that Imran Khan has brought politics to a point of no return threatening either Mr Khan or they [PML-N] would survive. He also threatened to go to any extent if his party was pushed against the wall.
He expressed these views while talking to a private TV channel Sunday. He said that Pakistan Tehreek-e-Insaf (PTI) Chief didn't believe in democratic traditions and a peaceful political environment, but he twisted politics into enmity. He said that Mr Khan believed they were his enemies while they considered him their political archrival.
He said that PTI Chief's acts have pushed them to the place where they would be forced not to follow any principle let alone talk about democracy. Rana Sanaullah said that either Mr Khan or they [ruling party politicians] would be excluded from politics.
Talking about the ex-premier's term in office, Rana alleged that Mr Khan had desired to eliminate the then opposition but Gen (retd) Qamar Javed Bajwa didn't extend his cooperation. He also blamed that Mr Bajwa was co-accused in framing false cases against them while ex-DG ISI Lt Gen Faiz Hameed also joined hands with them in registering a heroin case against him.
The federal minister also disclosed that Mr Khan wanted to appoint retired judges in anti-narcotics, accountability and other courts where cases had been registered against them adding that President was the authority to make such appointments. The interior minister said that the establishment had then refused to support this move which resulted in differences between the PTI leadership and the establishment. He said that this led to the change of government in the center as Khan's allies joined hands with them [PDM]. He said that the opposition, not the economy was the number one issue of Pakistan for Mr Khan.
Responding to a query, Mr Sanaullah said, Imran Khan managed sit-ins, and protests since 2014 and later exercised a vindictive attitude towards the opponents. Rana also alleged that an attempt was made to put the things on fire on May 25, November 26 and at Zaman Park.
The interior minister categorically said that until Imran Khan Niazi was there, there would be neither political stability nor peace in the country. He denied that more than 100 cases had been registered against Mr Niazi saying they were 40 in number. He denied any reports from the agencies that there was a life threat to Mr Khan. He said the ex-prime minister blamed Islamabad and Lahore police chiefs for hatching the conspiracy to murder him. He said that the establishment should consider Mr Khan a 'fitna'.