ECP rejects PTI's plea to cross-examine witnesses in funding case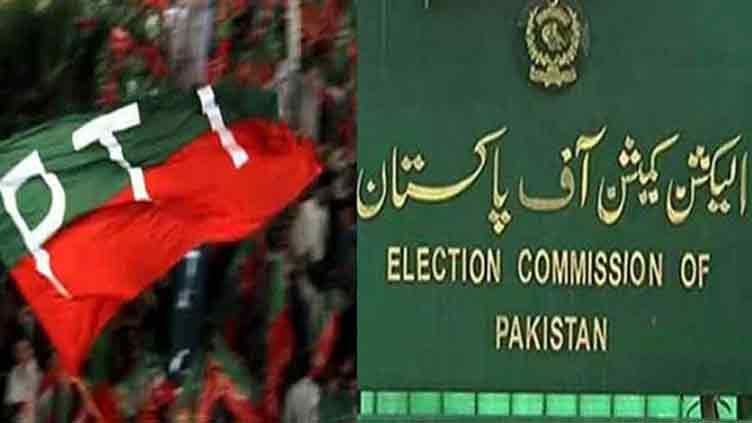 Pakistan
CEC Sikandar Sultan Raja announces to take the case forward
ISLAMABAD (Dunya News) – The Election Commission of Pakistan (ECP) on Wednesday turned down a plea made by the Pakistan Tehreek-e-Insaf (PTI) demanding the cross-examination of key witnesses in the prohibited funding case.
A three-member bench, headed by Chief Election Commissioner Sikandar Sultan Raja, announced the ruling reserved on December 20. The bench also announced to proceed with the show cause notice served on the PTI.
In August last year, the electoral body issued a show cause notice to the Imran Khan's party to justify why further legal action should not be taken against it over financial irregularities.
Instead of replying to the show cause notice, the PTI sought permission to cross-examine the scrutiny committee and the bank officer – in the case. The ECP bench also rejected objections raised by the PTI against CEC.
During today's hearing, the chief election commissioner remarked the Islamabad High Court (IHC) had not stopped the ECP from taking action, adding that the case will not be take forward.
At one point, the PTI pleaded the court to adjourn the hearing for two weeks. To which, the CEC replied that two weeks' time could not be granted.
The ECP later adjourned the hearing till March 28.
On Aug 2, 2022, the ECP, in its unanimous verdict, ruled that the party had received funds from business tycoon Arif Naqvi and from 34 foreign nationals. It went on to say that the party had taken ownership of eight accounts and kept 16 hidden.
Unknown accounts had also come to light, said the commission in its verdict, adding that hiding accounts was a "violation" of Article 17 of the Constitution.
The electoral watchdog had then decided to issue a show-cause notice to the PTI to explain why the commission should not seize the funds it received. The commission also stated that PTI chief Imran Khan had submitted a "misdeclaration" with the commission.
The case had been filed by PTI founding member Akbar S. Babar and was pending since November 14, 2014. Babar had alleged serious financial irregularities in the party's funding from Pakistan and abroad.