Islamabad Police register case against Imran, 12 PTI leaders on terrorism charges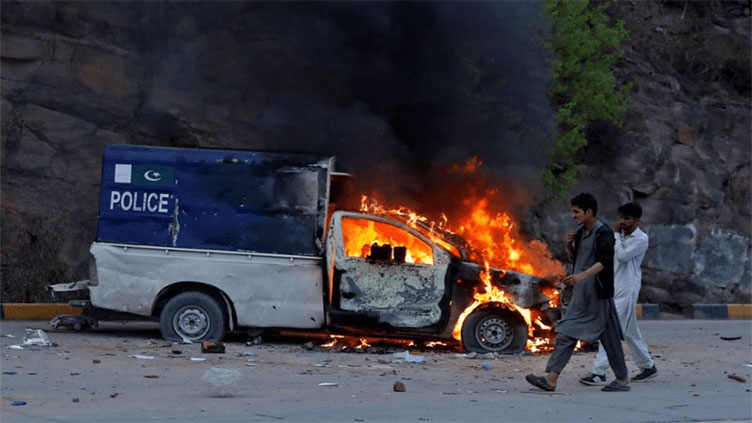 Pakistan
Police claimed that during violent clashes, the workers also used teargas against the law enforcers.
ISLAMABAD (Dunya News) – A case on terrorism charges has been registered against PTI Chairman Imran Khan and more than a dozen party leaders for allegedly attacking police officers and causing chaos outside the Federal Judicial Complex (FJC).
It is learnt on Sunday that the Islamabad Police lodged a first information report (FIR) after PTI workers clashed with police on Saturday after Imran arrived at the complex to attend the hearing of Toshakhana case.
Police claimed that during violent clashes, the PTI workers also used teargas against the law enforcers. The PTI workers used rocks against the police alongside petrol bombs to set their vehicles on fire.
The mob also set a police post on fire. During the confrontation more than 25 officials were injured.
On Saturday, Ramna Police Station House Officer (SHO) Malik Rashid Ahmed registered an FIR at the Islamabad Counter Terrorism Department against Imran and other PTI leaders.
The complaint invoked sections 148 (rioting, armed with a deadly weapon), 149 (every member of unlawful assembly guilty of offence committed in prosecution of common object), 186 (obstructing public servant in discharge of public functions), 353 (assault or criminal force to deter public servant from discharge of his duty), 380 (theft in dwelling house, etc), 395 (punishment for dacoity), 427 (mischief causing damage to the amount of fifty rupees), 435 (mischief by fire or explosive substance with intent to cause damage to amount of one hundred rupees), 440 (mischief committed after preparation made for causing death or hurt) and 506 (punishment for criminal intimidation) of the Pakistan Penal Code.
It also included Section 7 (punishment for acts of terrorism) of the Anti-Terrorism Act (ATA), 1997.
According to the FIR, the PTI chief along with 17 other PTI leaders violated Section 144, imposed in Islamabad yesterday, and blocked the road to traffic.
It named PTI Secretary General Asad Umar, former deputy speaker Asad Qaiser, leaders Hammad Azhar, Ali Amin Gandapur, Ali Nawaz Awan, Murad Saeed, Shibli Faraz, Hassaan Khan Niazi, Omer Ayub Khan, Amjad Khan Niazi, Khurram Nawaz, Jamshed Mughal, Aamir Kiyani, Farrukh Habib, Dr Shehzad Waseem, Umer Sultan and Imran's Chief Security Officer retired lieutenant colonel Muhammad Asim.
The FIR also named 18 people involved in causing damage to the FJC, 22 others involved in causing damage in the parking area of the complex and lighting up fires, and 19 others involved in allegedly injuring police officials. It also mentioned that stones, lighters and Molotov's were recovered from some of them.
According to FIR, PTI workers were armed with stones which they threw at a check post of the Dhok Kashmirian police station. They also burnt down barriers and tents at the check post.
"The charged crowd then surrounded the Judicial Complex from four sides, broke down its main gate, and stoned the building until its windows were shattered," the complaint stated.
It added that another group of PTI leaders set fire to 16 government and police vehicles and four motorcycles in the parking area of the JDC. "They also took 9mm pistols, Rs20,000 in cash, and a wireless set from the car."
The protesters snatched eight anti-riot kits from the policemen, hit police officers with sticks, and hurled stones at them.
The PTI protestors completely destroyed the pick-up of Lohi Bhir police station and the vehicles of the bomb disposal squad of the Special Branch, while they also set fire to two motorcycles of the Margalla police station, and 12 other vehicles, including two prison vans. They also broke windows of two Faisalabad Constabulary buses and one Chakwal police.
WORKERS BOOKED IN QUETTA
Meanwhile, a case has been registered against 150 PTI workers in Quetta who protested against the possible attempt to arrest Imran Khan.
The case was registered at the Airport Police Station under sections 341, 147 and 153 against 150 workers.