Unified MQM-P pledges 'a new struggle for freedom'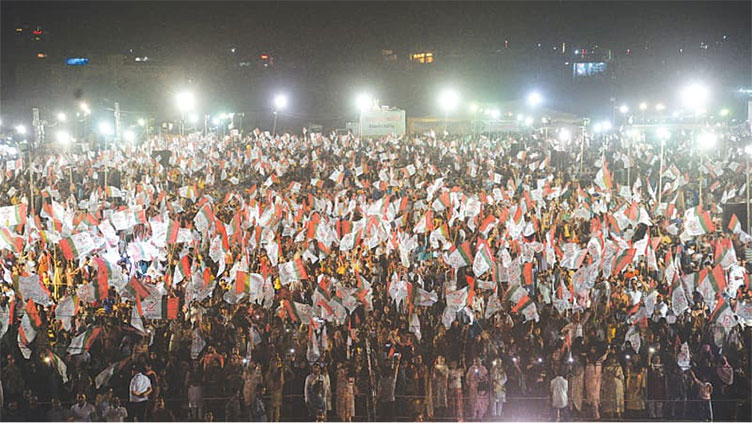 Pakistan
The participants chanted slogans waving party flags and carried placards.
KARACHI (Web Desk) – The Muttahida Qaumi Movement-Pakistan (MQM-P) turned its 39th foundation day into a power show to demonstrate that it enjoys public support.
A large number of workers and supporters, including women and children, reached the Bagh-i-Jinnah in the form of small rallies from their respective localities. Workers from other parts of the province also attended the event.
The participants chanted slogans waving party flags and carried placards inscribed with demands, including of a fair census.
Senior MQM-P leaders, including Anis Kaimkhani, Nasreen Jalil, Farooq Sattar, Mustafa Kamal and Khalid Maqbool Siddiqui addressed the gathering.
MQM-P convener Siddiqui vowed to launch a new struggle for freedom and give constitutional protection to the poor.
He said that the MQM-P would support every movement that would give rights to the oppressed people.
Speaking on the occasion, former Karachi mayor Mustafa Kamal said that it was an MQM which included people from all areas of the metropolis – Pakhtuns from Sohrab Goth, Balochs from Lyari and people of all ethnic origins.
He criticised the PPP-led Sindh government for depriving the people of Karachi of their basic rights.
Demanding an empowered local government system from Karachi to Kashmore, he said that general elections should not be held until all provinces hold municipal elections.
Speaking on the occasion, Dr Farooq Sattar claimed that more than 80 percent people of Karachi had boycotted the local government elections on the call of the MQM-P.
He expressed his apprehension on the ongoing digital census and demanded that the true population of Karachi be reflected in the census.
He said that the party would bring young leadership in the next general elections.
Nasreen Jalil said that the MQM-P is united on one platform. She criticised the Pakistan Tehreek-e-Insaf (PTI) for failing to raise its voice for the problems of Karachi despite having 14 members in the National Assembly.
It may be recalled that the factions of the Muttahida Qaumi Movement joined hands in January when the Mustafa Kamal-led Pak Sarzameen Party and Dr Farooq Sattar group merged into the MQM-P.
The unified MQM is an important part of the Pakistan Democratic Movement-led coalition government at the Centre.