Get your cases closed by April 30 or be jailed, Sh Rashid to PML-N, PPP leaders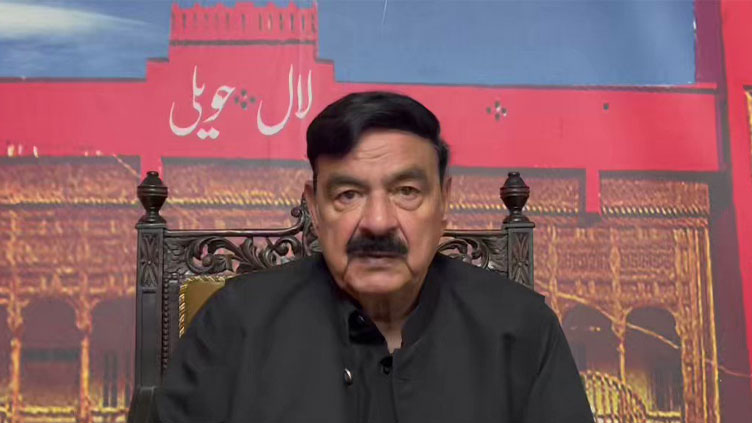 Pakistan
Says 'Group of 13' has not enough members to file nomination papers
RAWALPINDI (Dunya News) – Awami Muslim League (AML) chief Sheikh Rashid Ahmad on Sunday asked the PML-N and PPP leadership to get their corruption cases disposed of by April 30 or be ready to go to real jail.
Taking to Twitter, Sh Rashid Ahmad said the next 72 hours will decide fate of elections and then it would be upon Election Commission of Pakistan (ECP) and Supreme Court what to do. He said Imran Khan could not be expelled by force.
Sh Rashid said tenure of the caretaker government will be over in 90 days. The 'Group of 13' had not enough members to file nomination papers.
He further said that thanks God, they recovered only Kalashnikov, not a cannon (from Zaman Park). "No one cares about the poor who is dying in distress. People will go tired waiting for Nawaz Sharif," he said.
Sheikh Rashid said yesterday (Saturday) Sessions Judge Murree Arif Naseem dismissed government's plea to cancel his bail. "How the file went missing, only the time will reveal," he added.
The former interior minister said that the US and China had refused to bail out Pakistan. Both the countries were asking Pakistan to introduce economic reforms. He said Ishaq Dar could not finish talks in three months. He had to bring down dollar value to Rs200 but contrary to that its value went up to Rs300.
He said government should take rest now because the meeting (with IMF) was over till April. Sh Rashid said individual voting rights rested with the US, and due to that Pakistan was under immense pressure.
— Sheikh Rashid Ahmed (@ShkhRasheed) March 19, 2023
— Sheikh Rashid Ahmed (@ShkhRasheed) March 19, 2023