IGP says petrol bombs retrieved from Imran's Lahore residence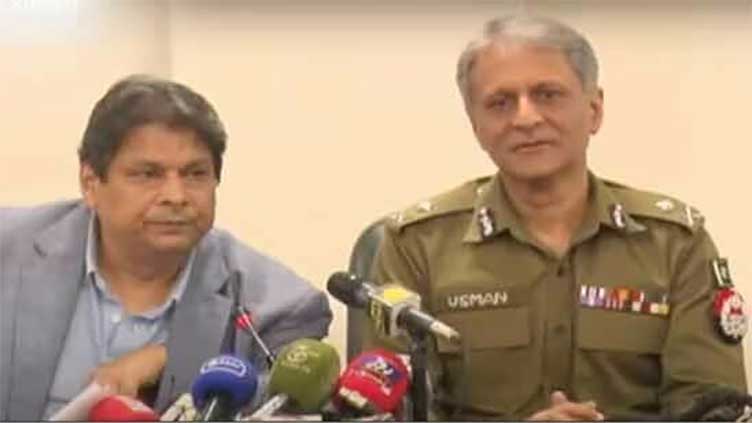 Pakistan
IGP says petrol bombs retrieved from Imran's Lahore residence
LAHORE (Dunya News) – Punjab Inspector General Dr Usman Anwar said on Saturday that ammunition was recovered from the Pakistan Tehreek-e-Insaf Chief Imran Khan's Zaman Park residence.
He addressed a pressed conference and said the ammunition including the petrol bombs - were recovered from the residence of Imran Khan.
The police chief said bunkers and sacks of sand were also found, which he said were creating the impression of it being a no-go area.
He added the exact location where the bombs were manufactured was being traced by the police.
During the press conference today, IG Anwar explained how the petrol bombs recovered were "used by the PTI workers against the police".
The senior police official justified the search operation, saying the LHC had clarified that the investigation "could not be stopped or stalled in any way".
Lady police officers were present with us and got injured in Zaman Park operation. He assured that the arrested would be produced before court and they would not be abused. "Police have video proof against the ones arrested today," he added.
He said police would ensure the rule of law. Our teams faced resistance during operation at Zaman Park. We did not fire at anyone while stones and petrol bombs were thrown at us, said IGP.
He lauded the police personnel for clearing the "no-go area" around Imran's residence "even after the police was pelted with stones".
IG Anwar further said the LHC had suggested the use of latest technologies to trace "those who spread anarchy".
Following the directives, the police made a list of the people with the "help of pictures, HD cameras, videos, geo-tagging, geo-fencing, reports from the special branch of police and other intelligence agencies", he added.