PPP leader Aitzaz Ahsan lambasts govt for tear gas shelling at Zaman Park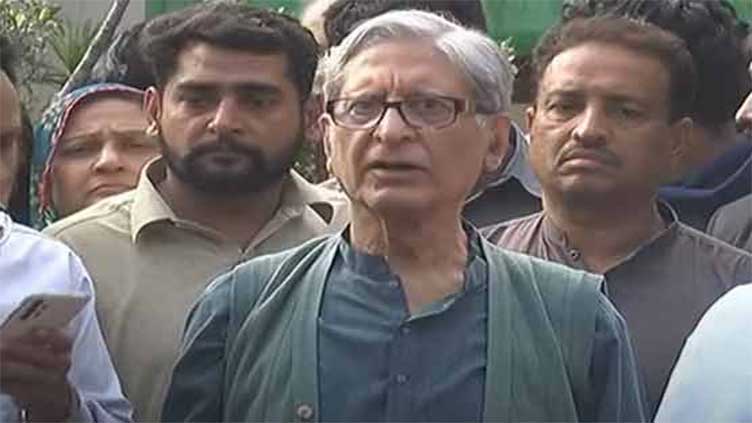 Pakistan
PPP leader lambasts govt for tear gas shelling at Zaman Park
LAHORE (Dunya News) – Pakistan Peoples Party (PPP) leader Aitzaz Ahsan on Saturday lambasted the government for tear gas shelling and storming gates with cranes in a residential area (Zaman Park). He alleged that tear gas shells also hit his house.
Speaking to media from Imran Khan's residence, the PPP leader asked the PTI workers to stay calm and alleged that police attacked the residence with armoured vehicles. He claimed that there were no women police officials. "If police had search warrants, who did they produce these before?" he questioned.
He urged the PTI activists to stay calm and avoid violence. He advised the PTI to take legal action against police action. He criticised police by saying that in the history of subcontinent, he never saw a search operation where police used armoured vehicles. "Are thieves living here?" he said.
Mr Ahsan demanded that Chief Justice of Pakistan Umar Atta Bandia take suo motu notice of the situation. "The PTI is a political party and this type of operation should not have happened against it," he said.
He said that PPP still stands tall even after killing of two former leaders - Zulfikar Ali Bhutto and Benazir Bhutto. "Political leaders can never be removed from the scene," he added.