Lahore's gridlocks put motorists on trial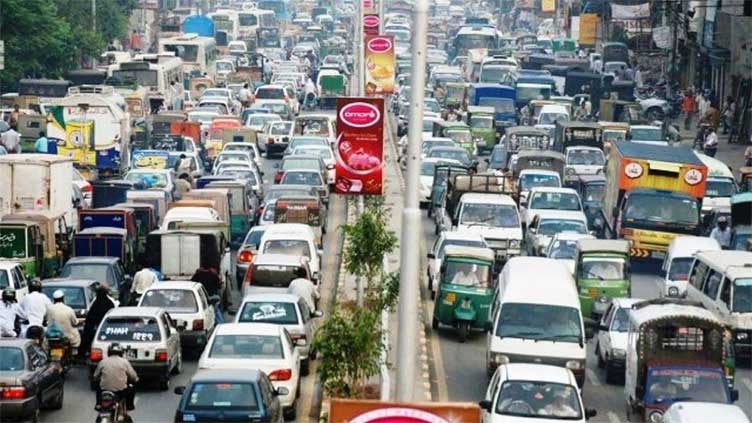 Pakistan
Lahore's gridlocks put motorists on trial
By Salman Khan
LAHORE: Motorists have been bearing the brunt of roadblocks and gridlocks triggered in various parts of the city owing to a slew of events of the last few days.
The city district administration and traffic police claim to have drawn up a diversion plan to ensure smooth conduct of the Pakistan Super League (PSL 8) matches at Gaddafi Stadium and uninterrupted flow of traffic, citizens have complained about the agonising experience of being stuck on roads. The residents of Gulberg and places close to the stadium in particular find their homes a 'no-go area' as their movement is restricted, thanks to the barriers placed by policemen on roads leading to the stadium.
The impact of road blockades stretches to other parts of the city where motorists and other road users face long queues of vehicles and haphazard traffic. The situation has been exacerbated by blockade of Canal Road and some of the access routes to PTI chairman Imran Khan's Zaman Park residence amid police efforts to arrest him in a case. Fierce clashes between law enforcers and diehard PTI workers have prompted the authorities to restrict public movement on Canal Road and adjacent arteries, which has worsened the traffic situation.
For the last few days, countless vehicles can be seen stuck or moving at a snail's pace on roads. "One can see wailing ambulances and other vehicles jostle for space on every road and even streets. Thoroughfares such as Ferozepur Road and Canal Road daily have clogged traffic. It takes double the time to reach the destinations," deplores a citizen.
The Mall, Canal Road, Jail Road, Ferozepur Road and adjoining roads remain badly hit, as are Ichhra, Shadman, Kalma Chowk, Wahdat Road, Mozang and Garhi Shahu. A major factor behind this situation is said to be the inability of the wardens to provide alternative routes after closure of the main roads. Motorists say there are too few wardens to regulate the traffic at peak hours.
"The wardens try their best at some places to manage the rush and help people out but they largely fail to regulate the traffic," says a commuter. It's deplorable, he says, that people have to face the ordeal of snarl-ups every now and then. Be it spate of construction activities, a cricket match or some political event, traffic is the first casualty.
Meanwhile, the situation worsened on Saturday when police cracked down on Imran Khan residence.
One can't help feel that people are going everywhere and reaching nowhere. The frequent image of traffic mess also seems to symbolise a country in desperation.