Can provide in writing I never broke the law, claims Imran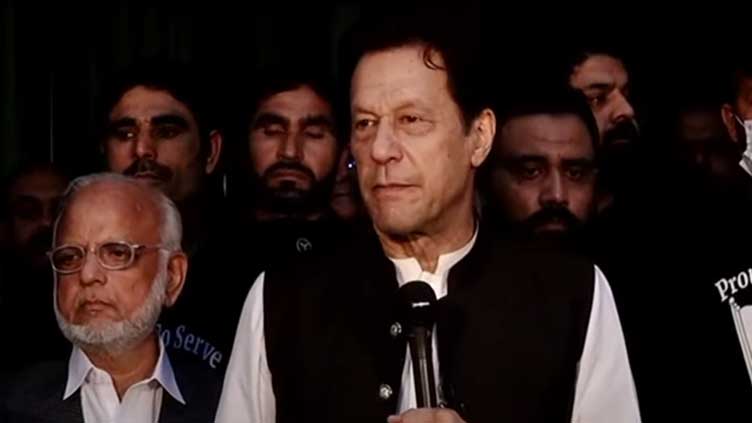 Pakistan
Police arrived to implement London Plan
LAHORE (Dunya News) – Pakistan Tehreek-e-Insaf (PTI) Chairman Imran Khan on Thursday said he never broke the law during his lifetime and he could provide that in writing.
His statement comes in the wake of a intermittent episodes of stalemate between the police, later flanked by Rangers, and PTI activists amid fears of his arrest in connection with the Toshakhana case.
Addressing the party workers outside his residence at Zaman Park, he said the law enforcement agencies attacked him and his party workers as if they were terrorists. "I ask them to furnish a single instance where I broke the law", he added. They came to arrest, he said, the leader of the biggest political party in Pakistan. The policemen did all this just for the sake of securing their jobs, he continued.
Read Also: Court dismisses plea for suspension of Imran's arrest warrants in Toshakhana case

He said he was on protective bail until March 18 but the police arrived on March 14 instead. "The LHC also asked the police what they were doing there before March 18", he added. What they were intended to do was, he said, what they did to PTI leaders Azam Swati, and Shehbaz Gill. he urged to look at the postmortem report to know what treatment they meted out to PTI worker Ali Bilal alias Zill-e-Shah.
He went on to say that they were not here to implement the arrest plan but just to carry forward Nawaz Sharif's wish of putting him behind bars. "They fear that I might come into power after winning the elections", he added. What their plan was, he said, put Imran in jail for different cases and win elections in his absence.
— PTI (@PTIofficial) March 16, 2023
He said Punjab IG Police first registered a murder case against him for killing the PTI worker and later claimed that Mr Shah died in an accident. "Already 85 cases have been registered against me", he added. They deployed policemen, he said, who tortured his party workers on May 25.
Know More: Willing to talk to anyone for country's sake, reiterates Imran Khan

He maintained that it became difficult for him to breathe even inside rooms. "I salute those who fought outside my home", he added. He challenged PML-N supremo Nawaz Sharif to come back and see how people welcomed him.
Talking about the ticket distribution for upcoming elections, he said he knew what had happened in 2018 during PTI ticket distribution adding that money and political influence were used. "Therefore, I'll ensure merit this time as I have no friends and relatives at the party", he added. He asked the people who would not be awarded tickets to refrain from standing against the party or the country.
He said usually parties appoint their bureaucracy, and think of their vested interests when they came to power. "India surpassed Pakistan in the 90s but what's more worrisome is the fact that Bangladesh is going ahead", he lamented. The incumbent government, he said, had brought the country to this point.
He claimed that whatever they could do to assassinate my character, they did, from getting the books written against him to attacking his wife Bushra Bibi. "They know when they will go out for the campaign, people will not budge", he added.