Army excuses itself from providing security for elections in Punjab, KP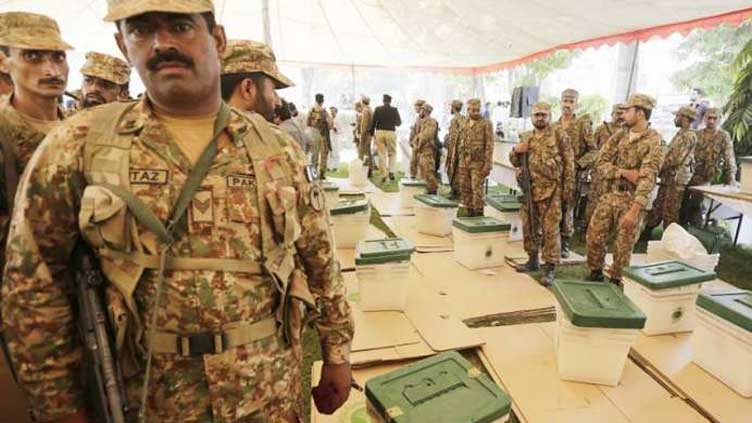 Pakistan
It will still be govt's prerogative to call military for 'secondary duties'
ISLAMABAD (Dunya News) – The Ministry of Defence on Tuesday apprised the Election Commission of Pakistan (ECP) that the army would not be available for election duty due to the ongoing security situation in the country and on the borders.

It comes as the elections in Punjab and Khyber Pakhtunkhwa (KP) are drawing near after the Supreme Court of Pakistan ordered the ECP to hold elections in both provinces. Elections are scheduled to be held in Punjab on April 30 and in KP and on May 28 in KP.
The election watchdog stated in a press release that the election chief Sikandar Sultan Raja held three important meetings in connection with holding the elections. In the third meeting, Defence Secretary Lt Gen (retd) Hamood Uz Zaman Khan and Additional Secretary Maj Gen Khurram Sarfraz Khan informed the ECP that the army was not available to be deployed for elections in provinces.
The defence secretaries added that the country's economic situation was also impacting the army ending the statement by saying that it would be the government's prerogative to call the military for "secondary duties" such as elections.
"They also clarified that in case of election duty, the army can be deployed in quick reaction force mode but it is not possible to perform duty in static mode," the press release read.
It merits mention that the army had turned down ECP's request earlier seeking deployment of military and Rangers' troops outside all highly sensitive polling stations along with quick response force for the second phase of the local government elections in Karachi and Hyderabad divisions.