PML-N ready to clinch elections, says Maryam Nawaz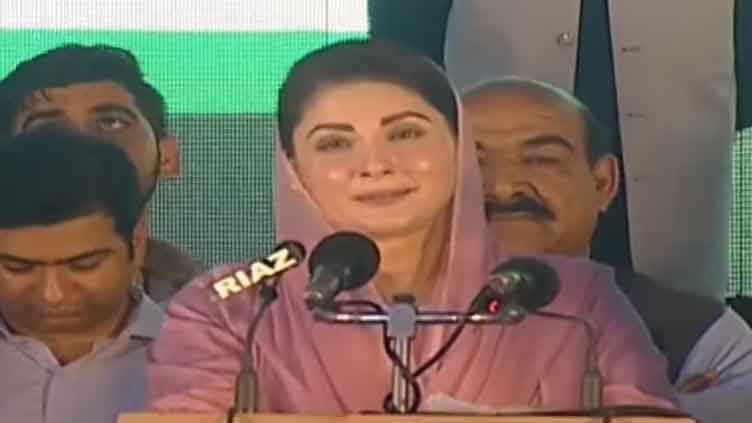 Pakistan
Maryam bashes Imran for 'evading' arrest
SHEIKHUPURA (Dunya News) – Pakistan Muslim League-Nawaz (PML-N) senior vice president Maryam Nawaz said on Tuesday that her party had geared up to win elections."
Addressing a convention, Ms Nawaz lavished praise on the PML-N supporters, saying, "The passion of the workers is forcing me to contest elections from Sheikhupura.
Reminding the deposed premier about "making a case against the interior minister", Ms Nawaz said Mr Khan had made a bogus case against Rana Sanaullah. "Today, Rana Sanaullah has been appointed as the interior minister, while Imran is hiding in his home," she added,
Slamming Mr Khan for evading arrest, Ms Nawaz said she never saw any of the political leaders to remain feared in terms of getting arrested.
"Whenever the court summoned him, he made excuses of being injured. What type of threat to life that can only happen while he is appearing before the court? But there is no threat to life to Imran in connection with the staging of public gatherings," Ms Nawaz schooled Mr Khan.
She said Mr Khan started to panic like a child, whenever the police came to arrest him.
Recounting the return of PML-N supremo, Ms Nawaz said, "Nawaz Sharif came to country by leaving her dying wife."
"Why are you escaping accountability if you are not involved in any sort of plundering," questioned Ms Nawaz. The one who does not involve himself in any sort of plundering gives accountability, even of his generations," said Ms Nawaz.
Read also: Maryam fires a broadside at Imran over postponing election rally
On Monday, Ms Nawaz launched a broadside at Mr Khan, saying the latter had acquired properties for his generations by selling the Toshakhana gifts.
Addressing an event in Lahore, Ms Nawaz took a dig at the deposed premier over the electoral campaign, saying, "Imran Khan says that I (Maryam) have the freedom of staging the electoral campaign but not him. We have faced difficulties for four years but nobody pointed fingers on Imran Khan."
She lamented Mr Khan did not even reach the house of PTI worker Ali Bilal, also known as Zille Shah. Ms Nawaz added, "Zille Shah's mother said Imran Khan's sons are living abroad but my son has been killed."
Lashing out at Mr Khan over the matter of cipher, Ms Nawaz said, "To play with cipher means to play with the country. I am fully confident that Imran Khan has been launched to worsen the situation of the country. How can you become the premier after you took the country to quagmire in four years."
Reminding Mr Khan of the qualities of a "true leader", Ms Nawaz said, "A true leader always leads from the front."
She recounted the tenure of PML-N supremo Nawaz Sharif, saying, "The country witnessed record growth during the tenure of Nawaz Sharif."