Maryam fires a broadside at Imran over postponing election rally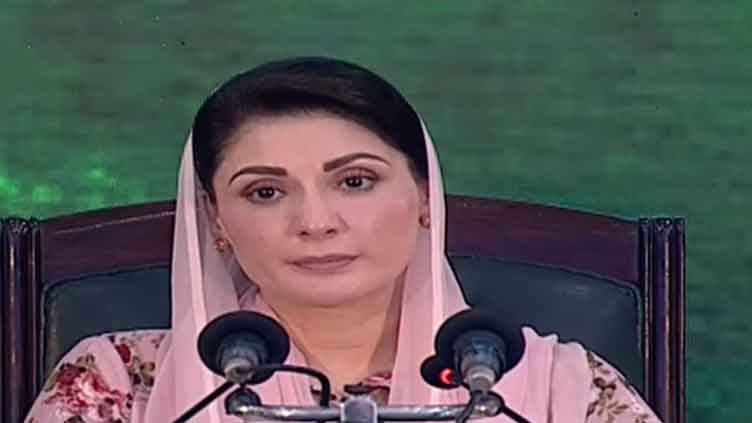 Pakistan
Maryam recounts Nawaz's struggle for judicial independence
LAHORE (Dunya News) – Pakistan Muslim League-Nawaz (PML-N) Senior Vice President Maryam Nawaz on Sunday launched a broadside at Pakistan Tehreek-e-Insaf (PTI) Chairman Imran Khan, saying he was postponing the election rally due to the fear of the police.
Taking to Twitter, she heaped praise on PML-N supremo Nawaz Sharif, saying, "The one who left no stone unturned in bid to face the challenges posed by Musharraf and played a vital role in the independence of judiciary is Nawaz Sharif."
On Saturday, PML-N senior vice president Maryam Nawaz claimed that only her party could combat inflation which continues to surge, making it difficult for the poor segments of society to have a square meal.
Amid spiralling food prices, the weekly inflation rate in Pakistan surged to 42.27 per cent – highest weekly YoY number since September last – on an annual basis during the outgoing week as the cash-strapped country implemented conditions laid forth by the International Monetary Fund (IMF) to revive the stalled loan programme.
Read also: Literary giant Paulo Coelho springs to Maryam's defence after name gaffe
According to the Pakistan Bureau of Statistics (PBS), the weekly inflation measured by the Sensitive Price Indicator (SPI) recorded a rise of 1.37% until March 9, with major increase observed in the prices of food items.
Maryam Nawaz stated this while chairing a party meeting in Faisalabad where organisational structure of the party was reviewed and recommendations for enhancing cooperation among PML-N wings were discussed. She said the PML-N was the only party that could reduce inflation and put the country on the road to prosperity. She reiterated her demand for equal standards of justice in the country.
Lamenting unethical social media practices, Maryam Nawaz asked the PML-N workers to play their role to combat such trends. The social media wing of PML-N had to take up the responsibility to end the hatred in society, she said.
On Friday, PML-N senior vice president Maryam Nawaz launched a broadside at Pakistan Tehreek-e-Insaf (PTI) Chairman Imran Khan, saying the latter had dragged the country to quagmire.
Addressing a convention, Ms Nawaz bashed Mr Khan over reaching an agreement with the International Monetary Fund (IMF), saying, "Imran Khan had left the country in severe economic hardships by reaching an agreement with the international lender."
She said, "When the court asks Imran to appear before the court, he makes excuses. Imran remains ready for staging rallies, but gets ill in connection with appearing before the court."
Ms Nawaz took a jibe at Mr Khan, saying, "Why PTI workers come to protect Imran. Imran should protect himself with the money he plunders."