Imran Khan caused Rs50 billion loss to national kitty, alleges Rana Sanaullah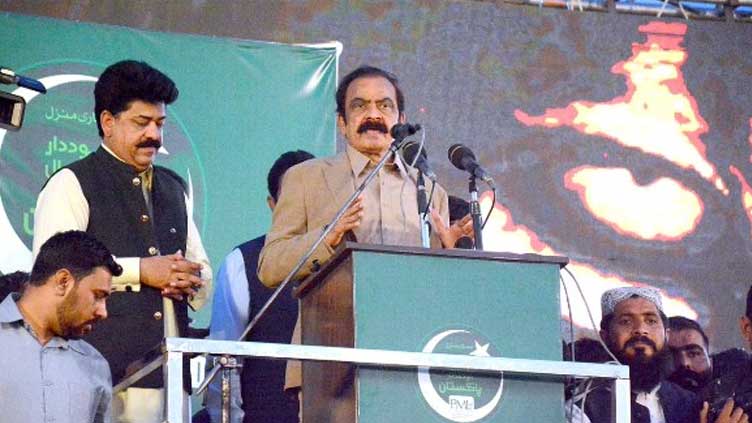 Pakistan
Imran Khan caused Rs50 billion loss to national kitty, alleges Rana Sanaullah
FAISALABAD (Dunya News) – Federal Interior Minister Rana Sanaullah Khan on Friday said that Imran Khan wanted to give nation a bitter pill under the garb of immediate elections with ulterior motive to avoid accountability in Toshakhana and foreign funding cases.
Addressing the workers' convention in Faisalabad on Friday, he said the PML-N was fully prepared for the elections. "We would not only take part in the elections but would emerge as victorious with the masses support," he added.
He said that Imran Khan had inflicted colossal loss of Rs50 billion to the national kitty in collaboration with property tycoon out of which a property of Rs15 billion was registered in the name of his wife.
The minister said that the time had come for the accountability and the law would take its own course, and warned that Imran Khan could be arrested as the hide and seek could not save him (Imran) from the accountability.
Rana Sanaullah asked the workers to buckle up their shoes as the elections and accountability would be held simultaneously. He said that Imran Khan would be in jail because of his loot and plunder.
The interior minister also alleged that Imran Khan was taking refuge under fake excuses of illness but one day he would have to surrender before the law, adding that Nawaz Sharif would certainly return back to lead the masses and give a shameful defeat to the so-called leader who had usurped power through conspiracies.
He said that Nawaz Sharif was actually a panacea for all national ills and he would very soon steer the country out of crises. He announced that next public meeting would be held in Iqbal Park Dhubi Ghat and Nawaz Sharif would himself address it.