PM Shehbaz felicitates Xi Jinping on securing record third term as China's president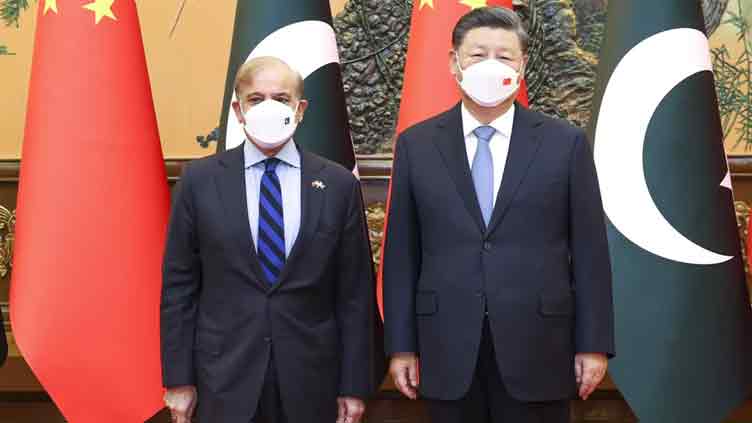 Pakistan
Says 'I'm confident that Pakistan-China ties will flourish further under his sagacious leadership'
ISLAMABAD (Dunya News) – Prime Minister Shehbaz Sharif on Friday felicitated China's President Xi Jinping on his reelection for the third consecutive term.
Taking to Twitter, the premier wrote: "Heartiest felicitations to H. E. President Xi Jinping on his re-election as President of China. This is a reflection of the trust reposed by CPC and 1.4 billion Chinese people in his statesmanship".
— Shehbaz Sharif (@CMShehbaz) March 10, 2023
"I'm confident that Pakistan-China ties will flourish further under his sagacious leadership," reads the tweet.
Earlier in the day, Mr Jinping secured a precedent-breaking third five-year term as China's president as he tightens his grip as the country's most powerful leader since Mao Zedong.
Nearly 3,000 members of China's parliament, the National People's Congress (NPC), voted unanimously in the Great Hall of the People for Xi, 69, to be president in an election where there was no other candidate.
The voting lasted for about an hour and the electronic counting was completed in about 15 minutes.
The stage was set for another Xi term when he did away with presidential term limits in 2018. His power was already extended last October when he was reconfirmed for another five years as general secretary of the central committee of the ruling Communist Party.
Over the next two days, officials approved by Xi are set to be appointed or elected to fill top positions in the cabinet, including premier-in-waiting Li Qiang, who is expected to be named to China's No.2 post, putting him in charge of managing the world's second largest economy.
Xi will make a speech on Monday before the annual parliamentary session closes, as China faces multiple challenges including an economy hobbled by three years of COVID curbs and worsening relations with the West.