Rana Sanaullah backs Section 144 imposition, calls PTI rally 'burger march'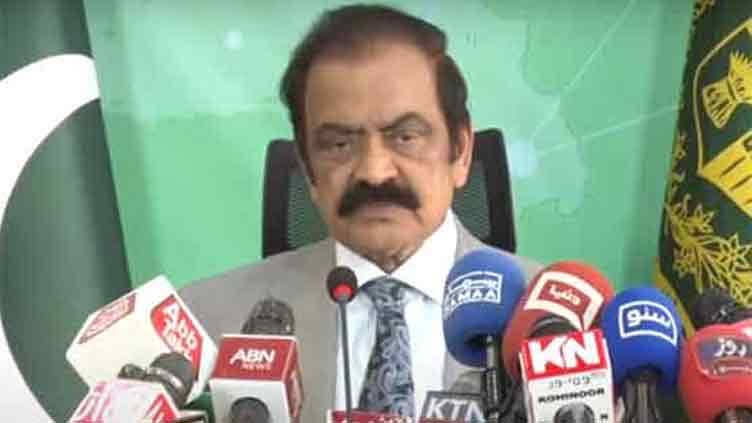 Pakistan
Says PTI chief should face courts as he has recovered from the wounds
ISLAMABAD (Dunya News) – Interior Minister Rana Sanaullah on Wednesday slammed the PTI Chairman Imran Khan for holding a rally on the International Women's Day, saying the Punjab government had imposed Section 144 in Lahore after alerts from the institutions concerned.
Addressing a press conference, the minister said the Aurat March and Haya Day were the two events which are being marked parallelly in the provincial capital today (Wednesday) amid fears of any untoward situation. He said the fears made the government to impose ban on rallies, gatherings and sit-ins in Lahore.
Lashing out at the PTI chief, he said Mr Khan announced his "Burger March" on that significant day in order to create tension. He said Imran Khan displayed his plastered leg when it came to appear before courts but staged rallies on the other side. "He [Imran Khan] cannot hold him back from creating tension in the country," Sanaullah said.
Read More: Arrests in Lahore as police, PTI workers come face to face for Section 144 violation
The minister said Mr Khan should face courts as he had recovered from the wounds he sustained during an assassination attempt in Wazirabad. He said Khan lacked evidence to defend himself in three cases. He lamented that Imran Khan got relief from courts whether it's justifiable or not.
Mr Sanaullah said the Islamabad court had summoned the PTI chief on March 13, adding that he would be arrested if skips the hearing. Calling Farhat Shahzadi aka Farah Gogi as frontperson of Imran Khan and his wife, he said she had looted Rs12 billion. He said Mr Khan caused losses to the tune of Rs50 billion to national kitty during his government.