Sanaullah wants political differences with Imran to not end in enmity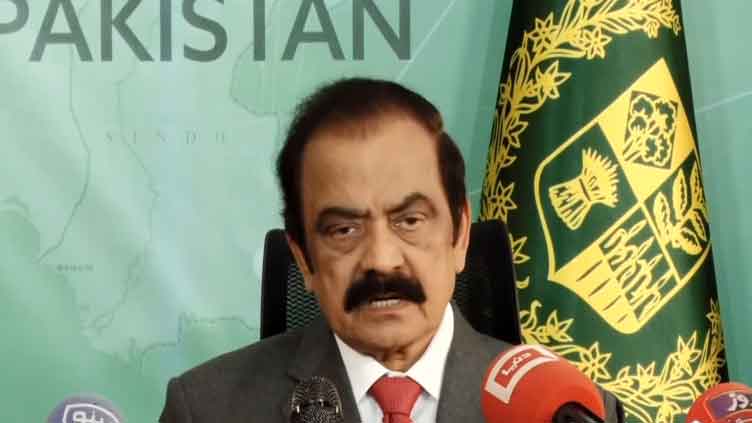 Pakistan
Sanaullah vows to end the menace of terrorism
ISLAMABAD (Dunya News) – Interior Minister Rana Sanaullah said on Monday that despite having political differences with Pakistan Tehreek-e-Insaf (PTI) Chairman Imran Khan, his party did not want enmity with the latter.
Addressing a press conference, Mr Sanaullah expressed his thoughts over the elections, adding that it was up to the Election Commission of Pakistan (ECP) to hold elections in the country.
He said that on the suggestion of Pakistan Democratic Movement (PDM) chief Maulana Fazlur Rehman, the meeting of the PDM was about to commence.
Berating the political opponents, Mr Sanaullah said first it was told that PTI Chairman Imran Khan was not present in Zaman Park. But, Mr Khan delivered a speech to Zaman Park. He added that the police went to Zaman Park to apprise Mr Khan of the court's order.
He claimed Mr Khan made a fabricated receipt in connection with the matter of Toshakhana. The minister added Mr Khan had to be answerable to the court in this regard.
Mr Sanaullah said, "I do not want to level an allegation of my assassination on Imran Khan. I am not in favour of levelling such allegations. Imran should also refrain from making such allegations.
Speaking about the terrorism, Mr Sanaullah vowed to end the menace of terrorism. He assured the Balochistan government that the centre was standing by the province. The security institutions will be provided with all the resources
.
In connection with the Sibi incident, Mr Sanaullah said the federal government was in contact with the provincial governments and the state institutions.