LHC summons Lahore DC, SSP after permission denied for Aurat March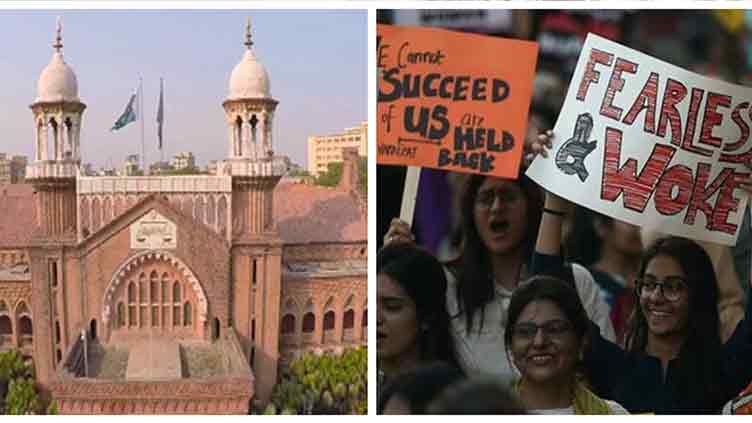 Pakistan
Earlier in the day, Justice Muzammil Akhtar Shabbir recused himself from hearing the case
LAHORE (Dunya News) – The Lahore High Court (LHC) on Monday summoned Lahore deputy commissioner and Senior Superintendent of Police (SSP) on a petition filed by Aurat March organisers against the refusal of NOC for holding the march in the Punjab capital owing to security reasons.
The organisers moved the high court on Saturday, arguing that the DC order was "arbitrary and colourable exercise of power and is in clear violation of the fundamental rights guaranteed in the Constitution […] The impugned order is, thus, liable to be struck down".
The organisers pleaded the LHC to set aside the DC's order and direct the respondents "to fully facilitate the petitioners and all the women of Lahore to peacefully participate in the Aurat March being organised at Nasser Bagh".
The case was fixed for hearing before Justice Muzammil Akhtar Shabbir today (Monday). However he recused himself from hearing the case and sent it back to the LHC chief justice, asking him to fix the petition for hearing before another bench.
Later, the case was fixed for hearing before Justice Anwar Hussain. The organisers of the march were represented by Lahore Bar Association secretary Sabahat Rizvi and Advocate Asad Jamal. The judge has summoned Lahore DC Rafia Haider and SSP Dost Muhammad on March 7 in the case.
On Feb 4, the Lahore DC discarded the plea to organise Aurat March, considering the possibility of a clash with members of Jamaat-i-Islami's (JI) 'Haya March'.
Civil society, political parties and rights organisations have condemned the DC for rejecting the request to organise Aurat March on International Women's Day on March 8, saying it seems to have been done under pressure of JI's 'Haya March.' They further plan to carry on with the preparations for March 8 despite the disapproval.
"There is no doubt that we will march on March 8th because we will not cede the little space we have carved for ourselves for 6 years. We will march, upholding the rich history of Pakistani women and transgender activists defiantly fighting the systems that seek to oppress us," tweeted Aurat March Lahore.
The Aurat March organising committee had requested for a no objection certificate (NOC) from the district administration to hold a rally on March 8 at Nasser Bagh, Lahore, followed by a march around the park area. While, the JI has also announced 'Haya March' the same day.
In view of threat alerts from security agencies, DC Rafia Haider rejected the plea for NOC.
A statement issued by the DC said the plea was rejected in the wake of the current security scenario, threat alerts and law and order situation. It further quoted 'controversial' cards and banners for awareness of women's rights and the strong reservation of the general public and religious organisations, among the reasons for the disapproval.