'Jail Bharo' drive hits snags in KP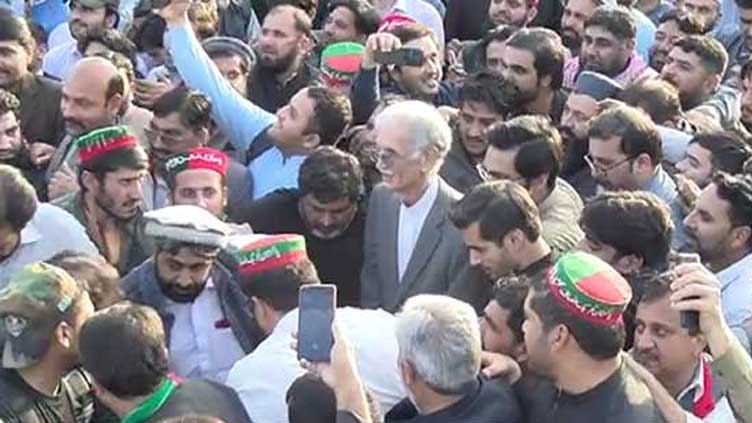 Pakistan
'Jail Bharo' drive hits snags in KP
PESHAWAR (Dunya News) – The fervently promoted "Jail Bharo" movement by the Pakistan Tehreek-e-Insaf (PTI) in Khyber Pakhtunkhwa has failed to register a significant impact on the incumbent government, owing to the lackadaisical attitude of PTI workers, resulting in no voluntary surrenders.

Amidst the ongoing court arrest drive, the PTI leadership orchestrated spirited rallies and public gatherings in Peshawar and Malakand on the second day, vehemently protesting against the Pakistan Democratic Movement (PDM) led government's alleged political victimisation.

Former National Assembly speaker Asad Qasier talking to the media said that "we are here and have also said that we want to make an arrest but the police not arresting, now we will chalk out our next plan after consultation with Imran Khan."

The PTI senior leader Parvez Khattak said "we came to present ourselved for voluntary arrest him but the not opened gate of jail."
PTI's Peshawar President Atif Khan said that "Jail Bharo" drive has been postponed for now, adding that no leader or worker could be arrested by the police today.
On the other hand, the KP police reached PTI stalwarts' residences who announced to present themselves for "Jail Bharo" drive including former CM Mahmood Khan's house kept announcing through loudspeakers that they should surrender but no one turned up.

SP Abdul Salam Khalid said that PTI workers were doing photo sessions around police vans but no one presented themselves for a court arrest drive. "If anyone gives voluntary arrest, they will be arrested, section 144, and FIR will be registered for blocking the road," added SP Khalid.