Govt considers Irfan Elahi, Azam Suleman's names for NAB chief slot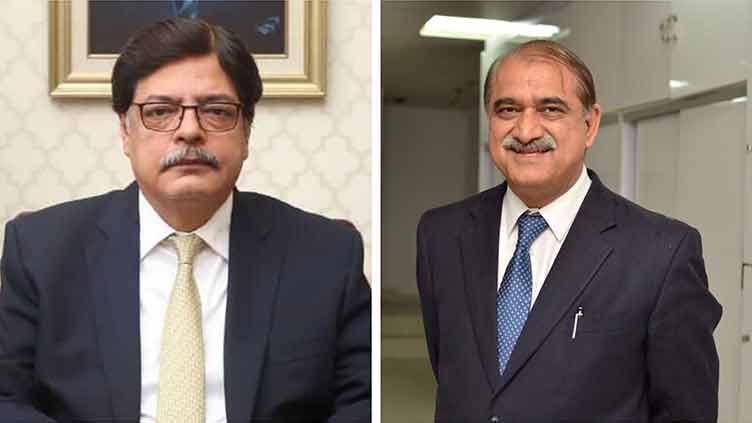 Pakistan
The development comes after Aftab Sultan resigned from the post
ISLAMABAD (Dunya News) – The federal government is considering the name of two former bureaucrats for the post of the National Accountability Bureau (NAB) chairman which fell vacant after Aftab Sultan stepped down over various reservations.
Sources said the names of former secretary aviation retired Squadron Leader Muhammad Irfani Elahi and former interior secretary retired Major Azam Suleman Khan, who is currently serving as Provincial Ombudsman of Punjab.
Earlier in the day, Mr Sultan resigned from the position of the NAB chairman over alleged pressure to pursue some corruption cases.
"I was being told to do the thing that is unacceptable to me," he said, adding: "I always worked on merit in my professional life". The outgoing NAB chief said it was not possible for him to forcefully make or end corruption cases against anyone. "There were some constraints and I found it better to resign," he said.
Read More: Accountability lynchpin Aftab Sultan resigns in surprise move
Meanwhile, Prime Minister Shehbaz Sharif has accepted his resignation and a search has begun to find a new person for the top slot. Sources said Mr Elahi and Mr Khan are the strong contenders for the position.
Profile Muhammad Irfan Elahi
He has done his graduation, Masters in Public Administration and LLB from Punjab University. Retired Sqn. Ldr Muhammad Irfan Elahi was commissioned in Pakistan Air Force (PAF) as GD Pilot in 1978. Later he joined the Government Service (DMG Group) in 1991 and served in the provinces of Balochistan and Punjab.
He has served as assistant commissioner Chaman and Quetta, Political Agent Chagai & Killa Saifullah, DCO & EDO Lahore, DCO Rawalpindi, DG Relief Punjab, Director Food, DG Parks and Horticulture Authority, Secretary Food, Secretary Livestock and Dairy Development and Secretary Irrigation Department Punjab. He has also served as Chairman Planning and Development Board, Punjab.
He took over charge as Secretary Aviation in 2015 and in the preceding year 2016 he was given additional portfolio of the Pakistan International Airlines (PIA). He retired as the federal secretary in 2018.
Profile Azam Suleman Khan
Retired Major Azam Suleman Khan joined Pakistan Administrative Service through Pakistan Armed Forces quota on August 31, 1990.
He also remained District Coordination Officer of Multan and Faisalabad during 2001 to 2003 and 2006 to 2008 respectively, during the military-government of the late Gen Parvez Musharraf. He also served as Deputy Commissioner Kasur from 1999 to 2001.
For several years, he led the Home Department of Punjab as its top bureaucrat during the tenure of former Chief Minister Shahbaz Sharif. He was promoted to the rank of federal secretary in Feb 2017 by then-Prime Minister Nawaz Sharif.
In 2018, he was made Chief Secretary Sindh by the caretaker ministry. After the PTI came into power, he was appointed as Chief Secretary Punjab by then-Prime Minister Imran Khan. In 2020, he took premature retirement to qualify for constitutional position of Provincial Ombudsman of Punjab, the position he currently holds.