Imran Khan requests SC for early hearing of audio leaks case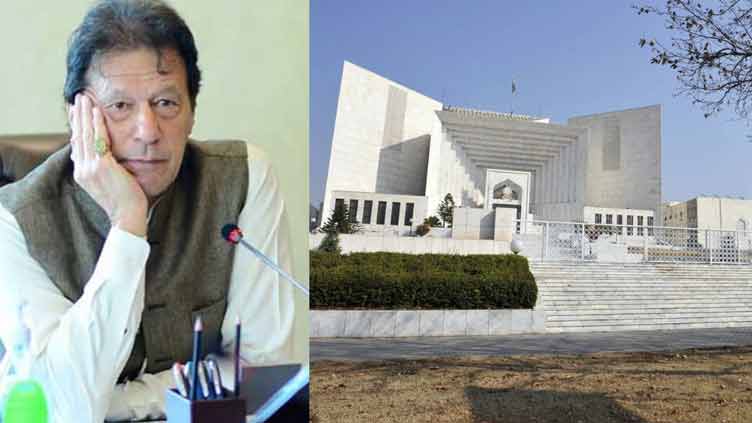 Pakistan
PTI chief says use of 'unverified, unauthenticated' leaks has widened to target and silence critic
LAHORE (Dunya News) - Pakistan Tehreek-e-Insaf (PTI) leader and former prime minister Imran Khan has appealed to the Supreme Court of Pakistan to fix his petition pertaining to "unauthorised and unverified audio leaks" for hearing at the earliest possible opportunity.
The ongoing audio leaks saga, which started last year when an alleged conversation of Prime Minister Shehbaz Sharif surfaced, has now engulfed Mr Khan, his wife and close aides amid boiling political temperature in the country. This time around, an audio tape involving PTI leader Dr Yasmin Rashid and former Lahore Capital City Police Officer (CCPO) Ghulam Mahmood Dogar has emerged.
Read More: Alleged audio tape of PTI's Yasmin Rashid, CCPO Ghulam Mahmood Dogar goes viral
Following the audio leak, Mr Khan on Sunday urged the judiciary to take notice of the development, saying taping conversation was a violation of basic rights. Now, the PTI on its official Twitter handle shared a copy of the letter sent by Imran Khan to Chief Justice of Pakistan (CJP) Umar Ata Bandial and other judges of the top court.
Referring to emergence of audios featuring alleged conversation between various public officials and ex-officials for the last several months, he wrote the leaked content had not been verified as appeared "to be either deep fakes or fabricated, edited, trimmed and joined, pieced together, and cannibalized to present an inaccurate and incorrect portrayal of the alleged conversations that they purport to carry".
He also talked about the clips which suggested that conversations taking place in the Prime Minister's House / Office, stating that it showed that the highly sensitive state installation was bugged on a systematic and routine basis.
— PTI (@PTIofficial) February 20, 2023
"It goes without saying that the Prime Minister's Office is a highly sensitive state installation where matters of great national sensitivity and importance are discussed. A breach of security in this premises has a grave effect on the lives, livelihood, safety, and security of the people of Pakistan," reads the letter.
It said the "unverified, unauthenticated, edited and tampered leaks" were used to target and silence criticism in the following months. "Among others, Senator Azam Swati suffered from the worst kind of invasion of privacy possible. Various ex-public officials, myself included, and even private members of the public have suffered from leaks (or release) of unverified, edited, tampered, pieced together and even fabricated conversations."
Saying the Constitution of Pakistan ensured certain guarantees related to basic human rights, including the privacy of an individual, the former premier said that "it has become increasingly obvious that this guarantee is not only being violated, but being done so with an unjustifiable audacity and a clear sense of impunity".
Mr Khan said he had filed a petition under Article 184(3) of the Constitution in the apex court in October last, taking up the audio leaks matter but it had not yet been fixed for hearing.
"In the meanwhile, matters have only gotten worse. Clearly emboldened by the lack of any consequence faced for such grave constitutional violations, the people involved have continued to selectively release various unverified, tampered, edited, fake and inaccurate recorded purported conversations in the public domain through social media. Unfortunately, and respectfully, it has come to a situation where recently even alleged conversations purporting to be between an ex-Chief Minister and a Judge of the Supreme Court were leaked through social media," he highlighted.
He said the leaks showed the people of the country were subject to routine surveillance and recording. "This begs the question, under what law are the people subject to such widespread surveillance and recording, by whom, to what end, under what constraints, and with what checks and balances in place? Can their conversations be recorded at will without any lawful authority and then doctored and released? What measures have been taken over the last several months to put an end to such breaches? Are our sensitive state installations, where matters of great consequence may be debated, secure?" reads the letter.
Saying if fundamental rights guaranteed by the Constitution are to have any meaning, the court should fix his case for early hearing.