Islamabad court to indict Sheikh Rashid in Zardari remarks case on March 2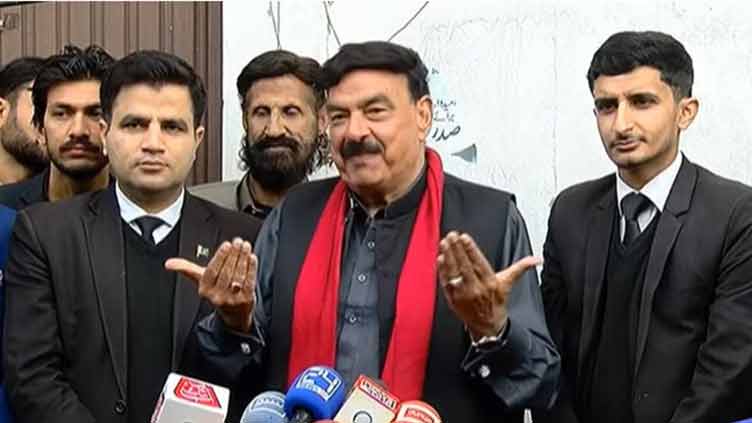 Pakistan
AML chief says only Supreme Court can save Pakistan this time
ISLAMABAD (Dunya News) – A court in the federal capital on Saturday announced a date to indict Awami Muslim League (AML) chief Sheikh Rashid Ahmad in a case pertaining to allegations against former president Asif Ali Zardari.
Judicial Magistrate Umar Shabbir said the charges would be framed against the former interior minster on March 2 as the investigation officer had submitted a challan in the case registered at the Aabpara police station earlier this month for accusing Mr Zardari of hatching a plot to kill PTI chairman Imran Khan.
Mr Ahmad also appeared in the court when he submitted a plea seeking registration of a case against the Aabpara police station officials for not returning his belongings, including mobile phones, confiscated at the time of his arrest. The senior politician said his mobile phone was costly. The judge said police had denied possessing the phone. The magistrate later returned the petition, directing the AML chief to submit it in the district and sessions court as it did not come under his jurisdiction.
During the hearing, Sheikh Rashid requested the court to adjourn the case till March 15 as he had to attend a conference on March 2. The judge said he could not adjourn the case for long as challan had been submitted by police.
Read More: Sheikh Rashid strikes a defiant note after release from Adiala Jail
On Feb 16, he was released from the Adiala Jail more than two weeks after he was arrested by the Islamabad police for allegations against Mr Zardari. He walked free from the prison after securing bail from the Islamabad High Court (IHC).
'Only Supreme Court Can Save Pakistan'
Speaking outside the court, the AML chief hoped that only the Supreme Court could save Pakistan as political crisis continued to deepen amid uncertainty over elections in Punjab and Khyber Pakhtunkhwa where assemblies were dissolved by the PTI in January last. He said the government had decided to hold provincial and federal elections at one time, adding that the ruling coalition was running away from polls. Lashing out at the PDM leaders, he said they just wanted to eliminate Imran Khan from politics.
He hoped that the top court would ensure holding of elections in the country and bring the looters to justice. He said Asif Zardari was leader of a "gang of corrupt persons".
"I have served as minister 16 times but I was hand-cuffed and put in solitary confinement," he said about the episode of his arrest and vowed to stand with Imran Khan. "I would not spare them," he warned his opponents.
"The way challans are being submitted against me, it seems I have to go back to jail," he said.