Shahid Khaqan Abbasi opposes Shaukat Tarin's possible arrest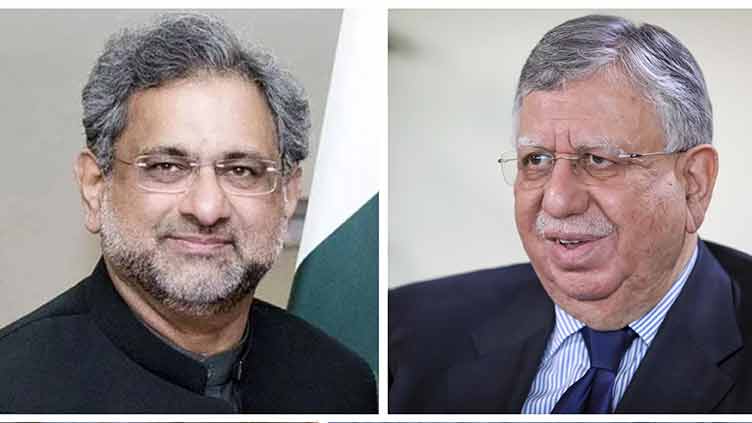 Pakistan
Says the PTI senator should be trialled in court if he had done something wrong
ISLAMABAD (Web Des) – Pakistan Muslim League-Nawaz (PML-N) leader Shahid Khaqan Abbasi has voiced concern over the plan of arresting PTI Senator and former finance minister Shaukat Tarin for his alleged attempts to stall talks with the International Monetary Fund (IMF).
Speaking to a private news channel, the PML-N stalwart said the PTI senator should be trialled in court if he had done something wrong instead of detaining him. Mr Abbasi said he was not in favour of "political revenge" against Mr Tarin.
He also spoke about his party's internal affairs, stating: "I had informed the party long ago that I would not become part of any new leadership under the supervision of Maryam Nawaz because I am a companion of Nawaz Sharif".
Read More: Rana Sanaullah gives FIA nod to arrest Shaukat Tarin in audio leak case
Mr Abbasi's opposition to Shaukat Tarin's arrest has come as Interior Minister Rana Sanaullah allowed the Federal Investigation Agency (FIA) to arrest the former finance minister in the audio leak case.
On Saturday, the agency sought permission from the interior ministry to initiate legal proceedings against Mr Tarin and detain him, claiming that the PTI leader's leaked conversation was an attempt to derail the IMF deal. The FIA's cyber crime wing has also registered a case against Mr Tarin under the Pakistan Electronic Crimes Act (PICA) on the complaint of Arshad Mehmood. He has been booked under provisions of sedition and provocation.