PM Shehbaz to witness Pakistan's Aman-2023 maritime exercises during Karachi visit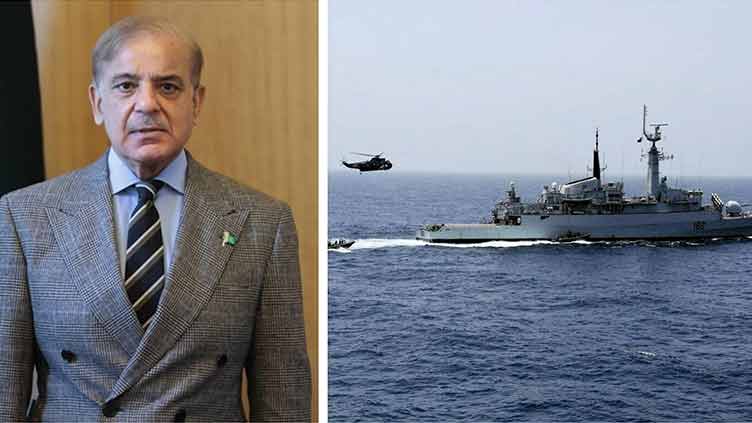 Pakistan
The premier would also hold meetings with Sindh governor, CM
ISLAMABAD (Dunya News) – Prime Minister Shehbaz on Tuesday arrived in the southern port city of Karachi on Tuesday on a day-long visit to witness ongoing maritime exercises 'Aman-2023'.
The premier would also address a ceremony to be organised by the Pakistan Navy. Besides observing the navy drills, he is expected to hold meetings with Sindh Governor Kamran Tessori and Chief Minister Murad Ali Shah.
Upon his return to Islamabad, the prime minister would chair a cabinet meeting at 6pm.
Last week, Pakistan Navy kicked off one of the largest maritime exercises in the Arabian Sea along with the participation of navies of 50 countries.
The opening ceremony, held at Navy Dockyard in Karachi, was attended by a large number of military representatives, observers and diplomats from participating countries.
The eighth exercise of Aman series involve ships, aircraft and special operation forces of participating countries. The multinational exercise would be held from Feb 10-14. A message of Chief of the Naval Staff of the Pakistan Navy Admiral Amjad Khan Niazi was also read on the occasion.
The exercise has been divided into harbor and sea phases. The harbour phase involves activities such as seminars, operational discussions, professional demonstrations, international get together and pre-sail planning of evolutions at sea.
Read More: Turkish Navy Ship conducts naval drills with Pakistan Navy
The sea phase would include tactical manoeuvres, exercises related to maritime security such as anti-piracy and counter terrorism, search and rescue, gunnery firings and air defence exercises.
The maritime drill is aimed at providing a forum for understanding maritime concepts and operational cultures, enhancing interoperability as well as identifying ways and means to combat common threats at sea.
Pakistan Navy launched the exercise in 2007 with only three participants but the message of collaborative maritime security was widely acknowledged and now 50 countries have joined the drills this year.