China, Pakistan committed to reviving CPEC in letters, spirit: Ahsan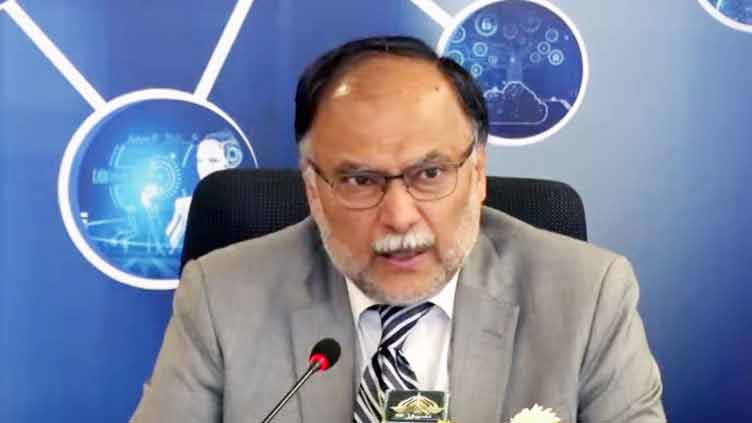 Pakistan
The Embassy of Pakistan in Beijing briefed the participants on the status of ML-1 and KCR projects.
ISLAMABAD (Dunya News) - Federal Minister for Planning, Development, and Special Initiatives Ahsan Iqbal on Thursday said that China and Pakistan are strongly committed to reviving the China-Pakistan Economic Corridor (CPEC) in letters and spirit.
He said this while chairing a high-level meeting to review the progress of the ongoing CPEC projects, said a press release issued here.
Project Director CPEC Dr Nadeem Javed, representatives from the Ministry of Foreign Affairs, line ministries, Board of Investment, Embassy of Pakistan in Beijing, National Highway Authority, provincial governments of Sindh and Punjab, LESCO, CPPAG, and KPEZDMC, Peshawar attended the meeting.
The Embassy of Pakistan in Beijing briefed the participants on the status of ML-1 and KCR projects. It was decided that the concerned authorities and departments from China and Pakistan would actively pursue their part furnishing all needful to ensure there is no further delay to cause a slowdown.
The meeting was also briefed about the current status of Allama Iqbal Industrial City, Rashakai, Bostan, and Dhabeji SEZs and Gwadar Port Authority, and Gwadar Free Zone.
Meanwhile, the representatives of the Balochistan government apprised the participants of the water supply schemes, precision training complex, and situation of electricity supply, Gwadar University, maintenance, dredging, and 3000 solar system installation in Gwadar.
Ahsan Iqbal said that the cooperation would be further expanded to more sectors.
The minister maintained that Gwadar and its inhabitants have been the top priority among the entire portfolio of the CPEC and even today the government is committed to solving the problems this city and its citizen are facing.
He instructed the concerned authorities to make sure no further delays are witnessed in completing the water supply schemes and the projects related to energy and education.
He believed that Gwadar had the potential to emerge as one of the world's top port cities duly equipped with state-of-the-art infrastructure, a modernized and technologically advanced port with enhanced capacity, and all necessary ingredients of socio-economic well-being.
Ahsan Iqbal also directed the concerned departments to convene meetings of the Joint Working Groups on Energy and Infrastructure so that the work on projects related to these domains could be expedited.