Political legacy passes on as sons of Chaudhry Nisar, Hanif Abbasi ready for NA by-polls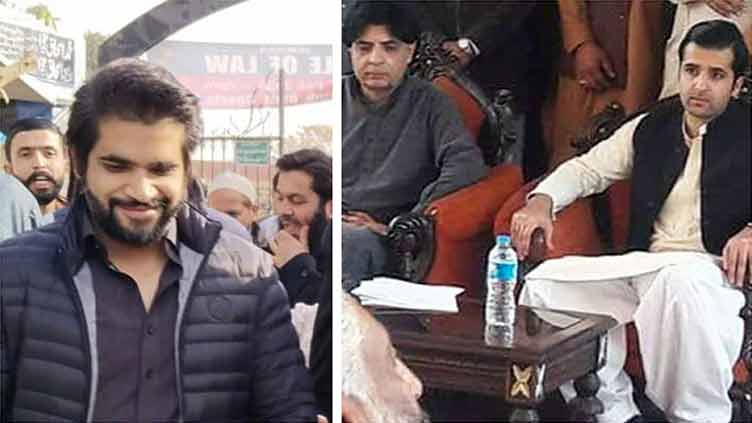 Pakistan
Political legacy passes on as sons of Chaudhry Nisar, Hanif Abbasi ready for NA by-polls
ISLAMABAD (Web Desk) – Senior politician Chaudhry Nisar Ali Khan and PML-N leader Hanif Abbasi have fielded their sons to contest upcoming by-elections on National Assembly seats vacated after the resignations of PTI lawmakers.
Taimur Ali Khan, the son of Chaudhry Nisar, has submitted his nomination papers from NA-59 Rawalpindi-III constituency as an independent candidate.
Meanwhile, Hanif Abbasi's son Hammad Hanif Abbas would contest by-polls on two seats – NA-60 Rawalpindi IV and NA-62 Rawalpindi VI. The two seats fell vacant after NA speaker Raja Parvez Ashraf accepted resignations of Awami Muslim League (AML) chief Sheikh Rashid and his nephew Sheikh Rashid Shafique.
Hammas Abbasi told media his political training had completed and hoped that he would won elections on both seats.
Read More: ECP announces schedule for by-elections on 33 NA seats
On Jan 27, The Election Commission of Pakistan (ECP) issued schedule for by-elections on 33 seats of the National Assembly.
The top electoral body in its notification said it had called the elections "in pursuance of Section 57 of the Elections Act 2017 (Act Na XXXIII of 2017), read with Section 102 and clause (4) of Article 224 of the Constitution of the Islamic Republic of Pakistan" on the seats that fell vacant due to resignations of the PTI lawmakers.
The ECP had directed the candidates to submit the nomination papers to the returning officers from Feb 6 to 8. The publication of names of the nominated candidates will be made on Feb 9. After allotment of election symbols to the candidates on Feb 23, the voting will be held on March 16.