ECP announces schedule for by-elections on 33 NA seats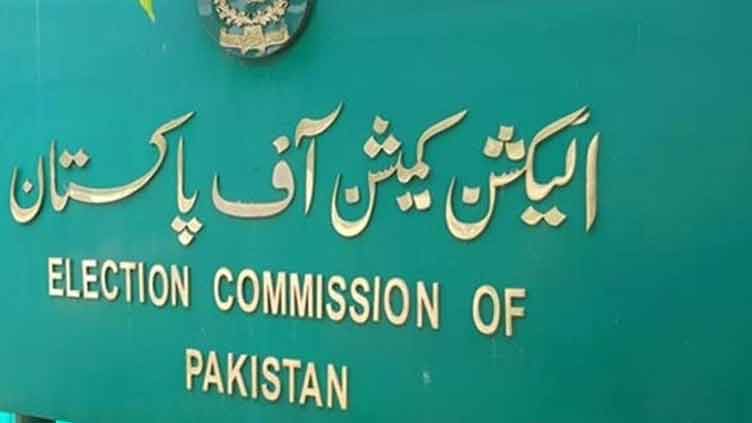 Pakistan
ECP announces schedule for by-elections on 33 NA seats
ISLAMABAD (Dunya News) – The Election Commission of Pakistan (ECP) on Friday issued schedule for by-elections on 33 seats of the National Assembly.
The top electoral body in its notification said it had called the elections "in pursuance of Section 57 of the Elections Act 2017 (Act Na XXXIII of 2017), read with Section 102 and clause (4) of Article 224 of the Constitution of the Islamic Republic of Pakistan" on the seats that fell vacant due to resignations of PTI lawmakers.
Read More: NA speaker swiftly accepts resignations of 35 more PTI lawmakers
The by-elections will be held in NA-4 Swat-III, NA-17 Haripur-I, NA-18 Swabi-I, NA-25 Nowshera-I, NA 26 Nowshera-II, NA-32 Kohat, NA-38 DI Khan-I, NA-43 Khyber-I, NA-52 Islamabad-I, NA 53 Islambad-II, NA 57 Rawalpindi-I, NA 57 Rawalpindi-III, NA 60 Rawalpindi-IV, NA 62 Rawalpindi-VI, NA 63 Rawalpindi-VII, NA-67 Jhelum-II, NA-97 Bhakkar-I, NA-126 Lahore-IV, NA-130 Lahore-VII, NA 155 Multan-II, NA 156 Multan-II, NA-191 DG Khan-III, NA 241, Korang Karachi-III, NA 242 Karachi East-I, NA 243 Karachi East-II, NA 244 Karachi East-III, NA 247 Karachi South-II, NA 250 Karachi West, NA 252 Karachi West, NA 254 Karachi Central, NA 256 Karachi Central and NA 265 Quetta-II.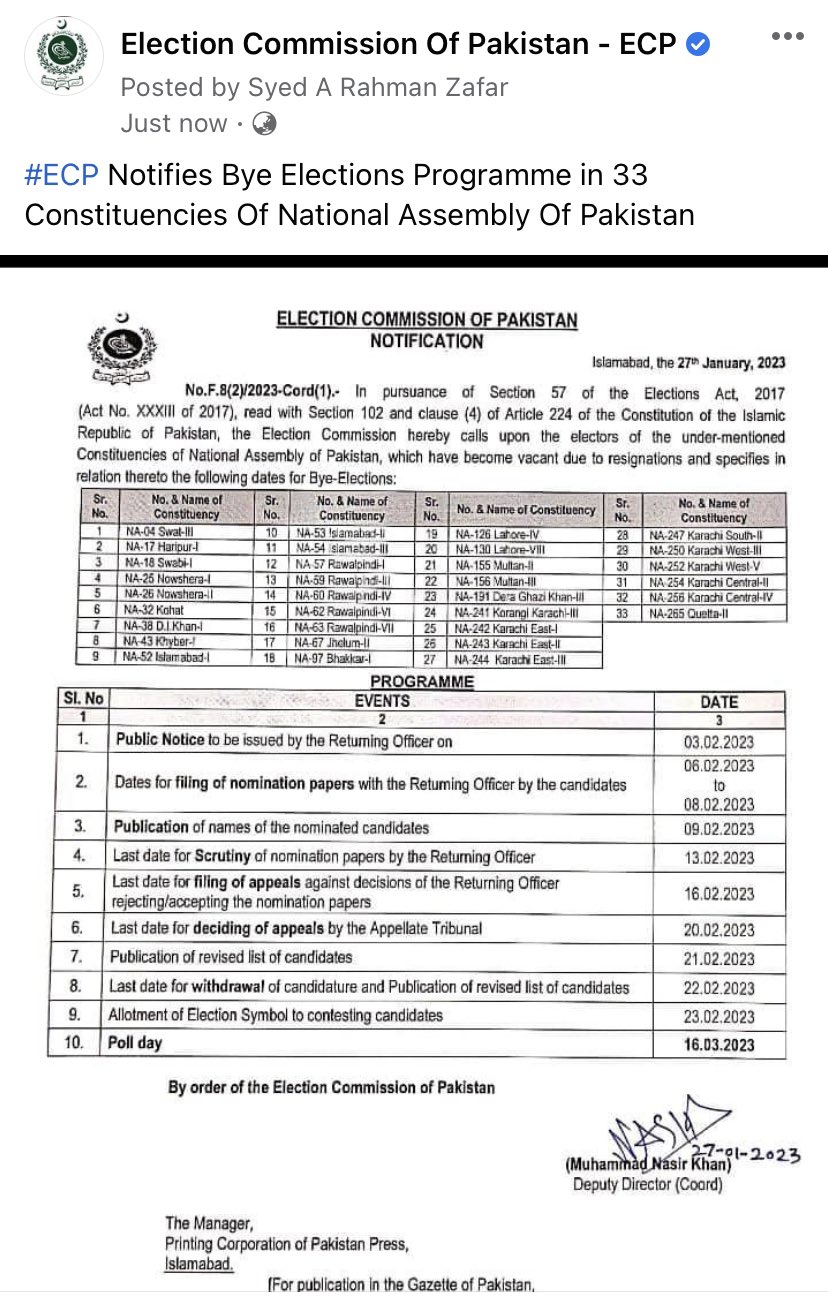 The ECP has directed the candidates to submit the nomination papers to the returning officers from Feb 6 to 8 while publication of names of the nominated candidates will be made on Feb 9. After allotment of election symbols to the candidates on Feb 23, the voting will be held on March 16.
The development comes after National Assembly Speaker Raja Pervaiz Ashraf accepted the resignations of 124 lawmakers of the Pakistan Tehreek-e-Insaf in phases. The earlier resignations were submitted in April last in protest against the ouster of former prime minister Imran Khan through no-confidence vote.