Abbasi pushes ex-NAB chief to name those who forced him to pursue 'false' cases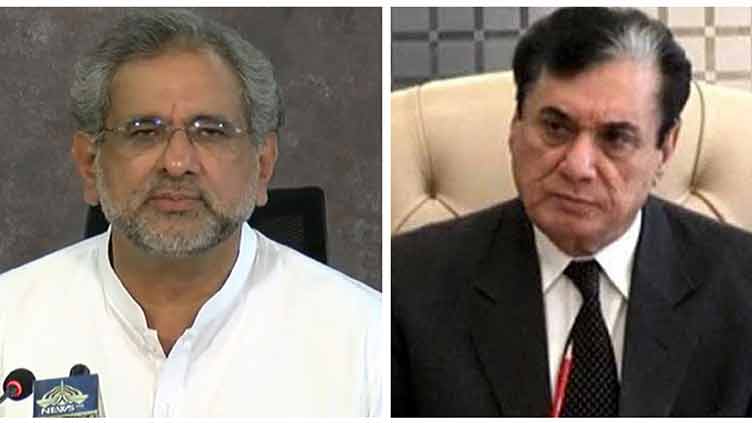 Pakistan
Abbasi pushes ex-NAB chief to name those who forced him to lodge 'false' cases
LAHORE (Dunya News) – Pakistan Muslim League-Nawaz leader and former prime minister Shahid Khaqan Abbasi on Tuesday pushed former National Accountability Bureau (NAB) chairman retired Justice Javed Iqbal to name the persons at whose behest he filed "false" cases against the political leaders.
Mr Abbasi, who is also facing a case over alleged corruption in the award of a liquefied natural gas (LNG) import contract, told media that he was baffled by the case registered against him. Saying Mr Iqbal will have to be answerable, the PML-N stalwart reiterated his stance that the NAB should be abolished as no government could be run with its existence.
He said former prime minister Imran Khan and former army chief retired Gen Bajwa traded blame for the cases, adding that Javed Iqbal who served as the NAB chief from October 2017 to June 2022 should clear the air by revealing the name who forced him to do it. He said Fawad Hassan Fawad, his former principal secretary who was recently acquitted in the corruption case, was also embroiled in the false case. "Public has to pay the price when the NAB is used to pressurise politicians," he said.
Read More: Had resigned when Maryam was notified as chief organiser, says Abbasi

Responding to a question, Mr Abbasi, who has resigned as senior vice president of the PML-N, said he was not leaving the party. He also dispelled rumours of receiving an offer from Imran Khan led-Pakistan Tehreek-e-Insaf (PTI).