Rallies held across country to observe Kashmir Solidarity Day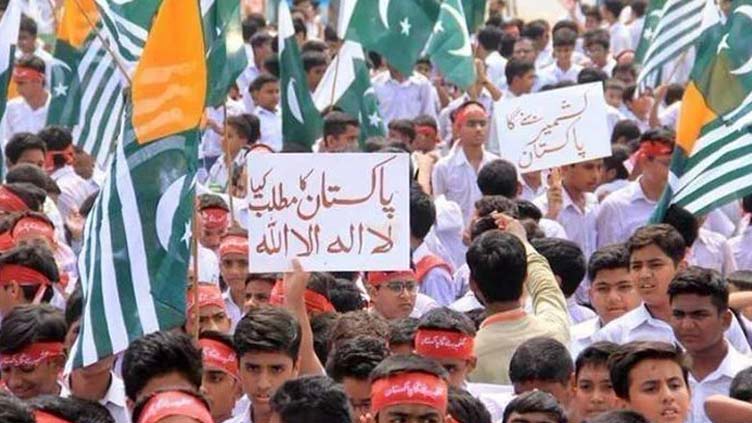 Pakistan
'Kashmiris will soon see the light of day,' says PM Shehbaz
ISLAMABAD (Dunya News) - Activists of political parties, religious outfits, government officials, members of human rights and civil society organisations came together in processions and rallies held in all parts of the country on Sunday to express solidarity with the people of Indian Illegally Occupied Jammu and Kashmir (IIOJK).
The participants demanded the United Nations and international community take notice of Indian atrocities in the valley and rid people of inhuman curfews, detentions and raids.
In Islamabad, activists, human rights bodies and civil society organisations reaffirmed their pledge to stand by their Kashmiri brethren till the achievement of their right to self-determination.
Adviser to PM for Kashmir and GB Qamar Zaman Kaira, while addressing participants of the rally, said Indian atrocities in the occupied valley are increasing and asked India to fulfill its promises to the people of Kashmir.
People and government of Pakistan will continue their unconditional support to Kashmiri brethren till they get their right to self-determination, he added.
یوم یکجہتی کشمیر: قمر زمان کائرہ کی میڈیا سے گفتگو#DunyaNews #KashmirDay pic.twitter.com/Plk5pg4LPu

— Dunya News (@DunyaNews) February 5, 2023
Meanwhile, Human chains were formed at Kohala and other important points linking Pakistan and Azad Kashmir.
In Karachi, solidarity rally was attended by provincial minister as well as police chief. Nasir Hussain Shah said the Kashmiri people were fighting Indian occupation for seven decades and reiterated that their struggle would soon yield results.
Kashmir Solidarity Day is observed to express wholehearted support to the just struggle of oppressed Kashmiri people for their inalienable right to self-determination under the UN resolutions.