Shahid Khaqan Abbasi dispels rumour of resigning as PML-N senior vice president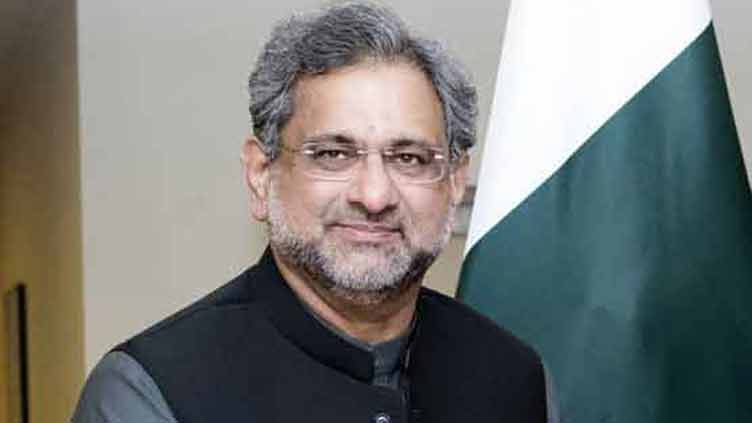 Pakistan
Shahid Khaqan Abbasi dispels rumour of resigning as PML-N senior vice president
ISLAMABAD (Dunya News) – Pakistan Muslim League-Nawaz (PML-N) leader and former prime minister Shahid Khaqan Abbasi on Wednesday rubbished reports about his resignation as senior vice president of the party.
Mr Abbasi, who served as the 21st prime minister of Pakistan from August 2017 to May 2018 after the disqualification of Nawaz Sharif in a graft case, has been actively participating in a series of conferences being held under the title of "Reimagining Pakistan" in various cities.
In Quetta and Peshawar moots, he openly said all political parties were responsible for worsening the political and economic situation in the country and asked all forces to end differences and join hands to save Pakistan.
Read More: Harmony only way to counter political instability: Shahid Khaqan Abbasi
As his participation in the conferences along with disgruntled PML-N leader Miftah Ismail sparked rumours of his difference with the party, reports emerged on Wednesday that he had quit the party as senior vice president. The reports also quoted Mr Abbasi as having said that he had made it clear to Nawaz Sharif three years ago that he would not continue to work with Maryam Nawaz if she was promoted to top office in the party.
In January last, Prime Minister Shehbaz Sharif approved elevation of Maryam Nawaz as senior vice president and chief organiser of the party with an immediate effect. The move had then caused hushed discontent within the party.
Read More: Maryam Nawaz becomes senior vice president of PML-N
In the latest development, Shahid Khaqan Abbasi said he had not issued any statement about quitting the party, saying he was still senior vice president of the party.
Despite Abbasi's denial, conflicting statements are emerging with a PML-N stalwart claiming that the former premier had submitted his resgination.
Talking to media, Mohammad Zubair, a spokesperson of Maryam Nawaz and Nawaz Sharif, has confirmed the resignation of Mr Abbasi, saying leaving the position of senior vice president of the party would not shadow his value. "He is a big leader and PML-N needs him," the former Sindh governor said. He also confirmed that Mr Ismail was still part of the party.
Meanwhile, former finance minister Miftah Ismail has also commented about the reports of Mr Abbasi's resignation. Speaking to a private news channel, he said Mr Abbasi had resigned from the position to provide full space to Maryam Nawaz in party matters. He said the former premier had preferred to remain silent.
Maryam Nawaz said he would soon hold a meeting with Shahid Khaqan Abbasi as "he is an asset of the party". The chief organizer of the party expressed it while chairing a party meeting in Model Town.