Parvez Elahi's Gujrat residence raided by police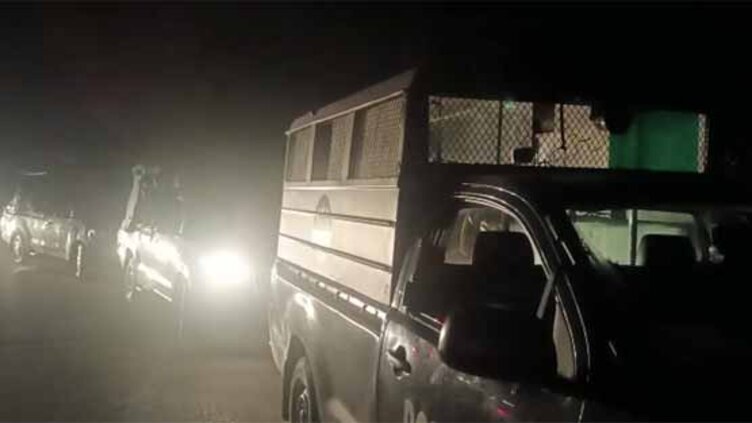 Pakistan
Former Punjab CM and Moonis were in Lahore at the time of the raid
GUJRAT (Dunya News) - The Gujrat police raided the house of former Punjab chief minister and central PML-Q leader Chaudhry Parvez Elahion early on Wednesday, Dunya News reported.
The Gujrat residence of Chaudhry Parvez Elahi, the Kunjah House, was searched by the Punjab police. A sizeable presence of police personnel surrounded the residence and some police vehicles were seen patrolling the area around it.
According to PML-Q leaders, Mr Elahi and his son Moonis Elahi were not at the Gujrat residence but were in Lahore and that only their servants were present there. It is unclear in which case did police conduct the raid.
— Dunya News (@DunyaNews) February 1, 2023
The police, though, initially denied taking a position.
Also Read: Parvez Elahi slams caretaker govt, vows legal action against Gujrat residence raid
However, a couple of days back, the driver and gunman of former chief minister Parvez Elahi were detained for reportedly transporting liquor bottles by the Islamabad police.
A complaint against them has been filed in the federal capital's Secretariat Police Station under a number of provisions.
According to the police, the suspects followed Elahi s orders and exchanged a briefcase containing liquor bottles for an envelope full of cash from Punjab House employee Faheem Mirza. The suspects were also presented before a magistrate in Islamabad.
The defendants have also admitted in front of the court that the purported workers of Parliament House Islamabad, Faheem and Irshad, were frontmen for the former chief minister, according to a media report. They stated that both suspected frontmen were involved in financial transactions on behalf of Chaudhry Parvez Elahi.
They also revealed that the purported frontmen for Mr Elahi host private events at the former chief minister s home for him.
The suspects stated that "Asim Cheema also organises private parties for Chaudhry Parvez Elahi," adding that the alcohol bottles for the private occasion had also been obtained from Islamabad.