PM urges unity among political forces to defeat terrorism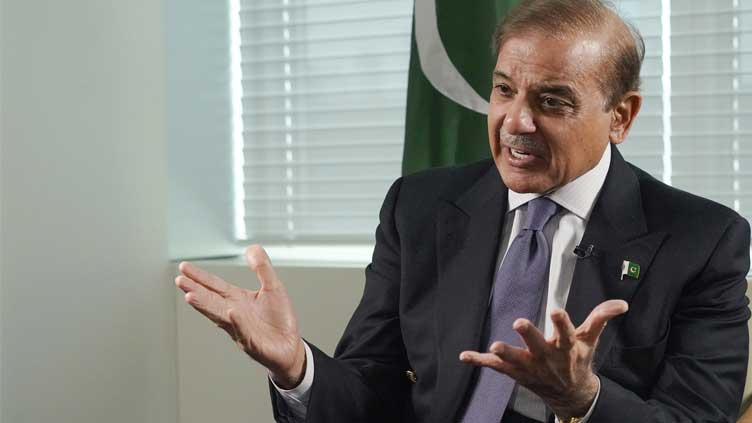 Pakistan
PM urges unity among political forces to defeat terrorism
ISLAMABAD (Dunya News) - Prime Minister Shehbaz Sharif on Tuesday urged all the political parties to show unity against anti-Pakistan elements.

Taking to Twitter, the premier penned that through their despicable actions, terrorists wanted to spread fear and paranoia among the masses and reverse the hard-earned gains against terrorism and militancy.

PM Shehbaz added, his message to all political parties is to show unity against the anti-Pakistan elements amid the rising tide of terrorism across the country. "We can fight our political fights later," said the PM.
— Shehbaz Sharif (@CMShehbaz) January 31, 2023
A day earlier, the premier visited Peshawar, the provincial capital of Khyber Pakhtunkhwa, hours after a suicide attacker blew himself up inside a mosque filled with people during Zuhr prayer at the Police Lines.

Chief of Army Staff Syed Asim Munir received the prime minister on his arrival. Mr Sharif was accompanied by Minister for Defence Khawaja Asif, Minister for Information and Broadcasting Marriyum Aurangzeb, and Minister for Interior Rana Sanaullah.

During the visit, Corps Commander Peshawar briefed the prime minister about the motives behind the terror attacks. Inspector General Police Khyber Pakhtunkhwa Muazzam Jah Ansari gave the initial investigative report about the suicide attack on the mosque.
The PM was also shown CCTV footage of the suicide attack on the Police Lines mosque. The participants of the meeting offered fateha for the martyred, sympathized with the bereaved families and prayed for the early recovery of the injured.
Know more: Caretaker KP CM forms JIT to probe Peshawar blast

PM Shehbaz said the cowardly terror attacks could not weaken resolve of the nation against terrorism and the miscreants and their facilitators involved in attacks on innocent citizens would be punished for their heinous crimes.

The premier said terrorists were attacking the security institutions which were defending Pakistan, adding the terrorists were making a nefarious attempt to create an atmosphere of fear and terror.

The strength of unity of institutions and people would foil the designs of terrorists, he said adding Pakistan had rendered great sacrifices against terrorism and sacrifices of the martyrs would not go waste.

Shehbaz Sharif said capacity of the anti-terrorism institutions and police would be enhanced and National Action Plan (NAP) would be implemented comprehensively and with full force.