PTI accepts Dar's challenge for 'live debate' on economy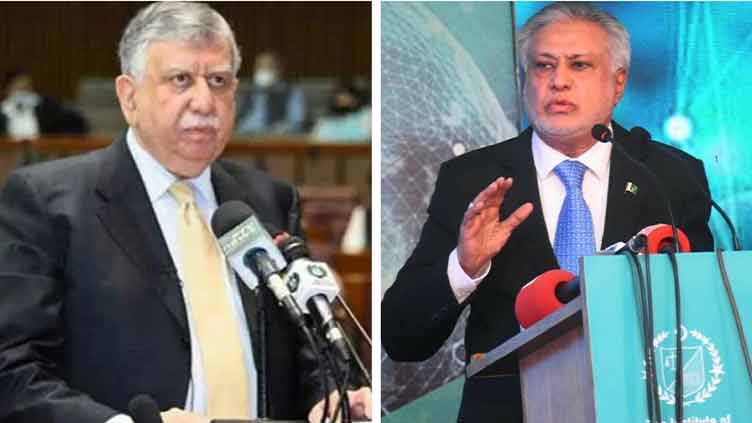 Pakistan
PTI accepts Dar's challenge for 'live debate' on economy
ISLAMABAD (Web Desk) – Pakistan Tehreek-e-Insaf (PTI) leader Shaukat Tarin has accepted a challenge made by Finance Minister Ishaq Dar for holding a live debate to determine who pushed the country into economic quagmire as both sides are pinning blame for catastrophic economic situation on each other.
During a televised address in response to Pakistan Tehreek-e-Insaf (PTI) Chairman Imran Khan's statement wherein he slammed the government for economic crisis, Mr Dar on Friday hit out at former prime minister Imran Khan's government for bringing down the Gross Domestic Product (GDP) growth which was left at 6.10 per cent in 2018 by the PML-N government.
"During our previous government, international rating agencies were predicting Pakistan to join the G-20 by 2030," the finance minister said.
Mr Dar said Imran Khan's speech was full of "lies" and the latter presented "concocted economic figures" of the current government. He said today's economic crisis and inflation were due to the wrong economic policies of Imran Khan's government.
The finance minister said "we had a choice to save the country or our politics, but we sacrificed politics for the sake of the country". At one point, the finance czar dared Imran Khan to hold a live debate to ascertain whose policy caused economic instability in the country.
Reacting to it, former finance minister Shaukat Tarin said: "We accept the challenge and also invite Prime Minister Shehbaz Sharif to hold a live debate with Imran Khan". He also said Mr Dar should give answers to his questions first, adding that the PML-N leader should avoid making such statements for political gains.
Mr Tarin reiterated that the performance of the PTI government was clearly mentioned in the Economic Survey of Pakistan, adding that Ishaq Dar could not do anything contrary to his high claims made when he returned to Pakistan last year. He claimed that the government would take power tariff to Rs50 per unit and increase petroleum prices to meet the demands of the International Monetary Fund (IMF).