Khawaja sees PTI's objection over Punjab caretaker CM as 'baseless'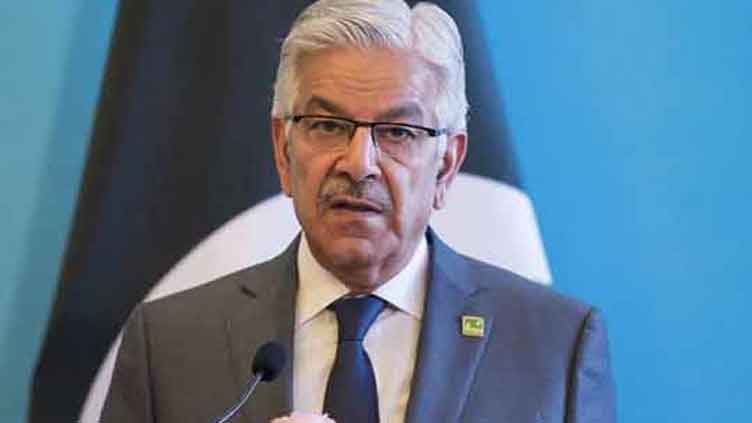 Pakistan
Khawaja sees PTI's objection over Punjab caretaker CM as 'baseless'
ISLAMABAD (Dunya News) – Defence Minister Khawaja Asif regarded on Monday the Pakistan Tehreek-e-Insaf's (PTI) objection over the election of Punjab caretaker Chief Minister Mohsin Naqvi as 'baseless'.
Mr Asif schooled former Punjab chief minister Chaudhry Parvez Elahi on his take over the appointment of the caretaker CM, saying that Elahi was far ahead in expressing his reservations about the Election Commission of Pakistan's (ECP) verdict on the matter.
Continuing to take a swipe at Mr Elahi, Mr Asif said, "At this age, Elahi was standing against his own relatives. He was now seeking justice before the ECP, at which he hurled abuse. Now he wants to become the leader of the opposition. "
Read also: Mohsin Naqvi s appointment constitutional, to ensure fair elections: Marriyum
Minister for Information and Broadcasting Marriyum Aurangzeb said on Monday that the appointment of caretaker chief minister Punjab was made according to the constitution and law and now there would be elections and not the selection in the province.
Imran Khan was worried over Mohsin Naqvi's appointment as caretaker chief minister because this was not done by 'witchcraft' but according to the constitution and law, she said in a tweet on Monday.
She termed Imran a 'foreign agent' who used $3 million funds of Shaukat Khanum hospital for business purpose. She also criticized Tehreek-e-Insaf's Chairman for 'imposing' Usman Buzdar on the people of Punjab.
The minister rejecting the PTI's criticism over caretaker chief minister's appointment said now there would be elections in Punjab and no longer selection as done in 2018.